Have you guys ever heard of Savored? It's actually a really cool website that allows you to make reservations at fancy restaurants with up to 30-40% automatically taken off of your bill! It's an awesome way for foodies to dine like the rich, but not have to pay like one! It's also great for young professionals or people looking for date spots or a fancy night out in t.
Recently, one of their featured restaurants on the website was SHO by Shaun Hergatt. I've heard of this restaurant a few times here and there and through coworkers. I always knew it was on the pricey side, so when I saw it on Savored I got pretty excited! Before I booked the restaurant, I looked at the menu and read a little bit of their reviews. It has a great rating for food on Zagat– 26- and reviews generally said that the food and quality of the food are great as well as the service. It was also a perfect time that SHO showed up on Savored because I wanted to treat my boyfriend to something special after taking his second part of the MD boards (yah, torturous). Turns out he ended up treating me haha.. I'm not complaining.. (ok he's definitely reading this).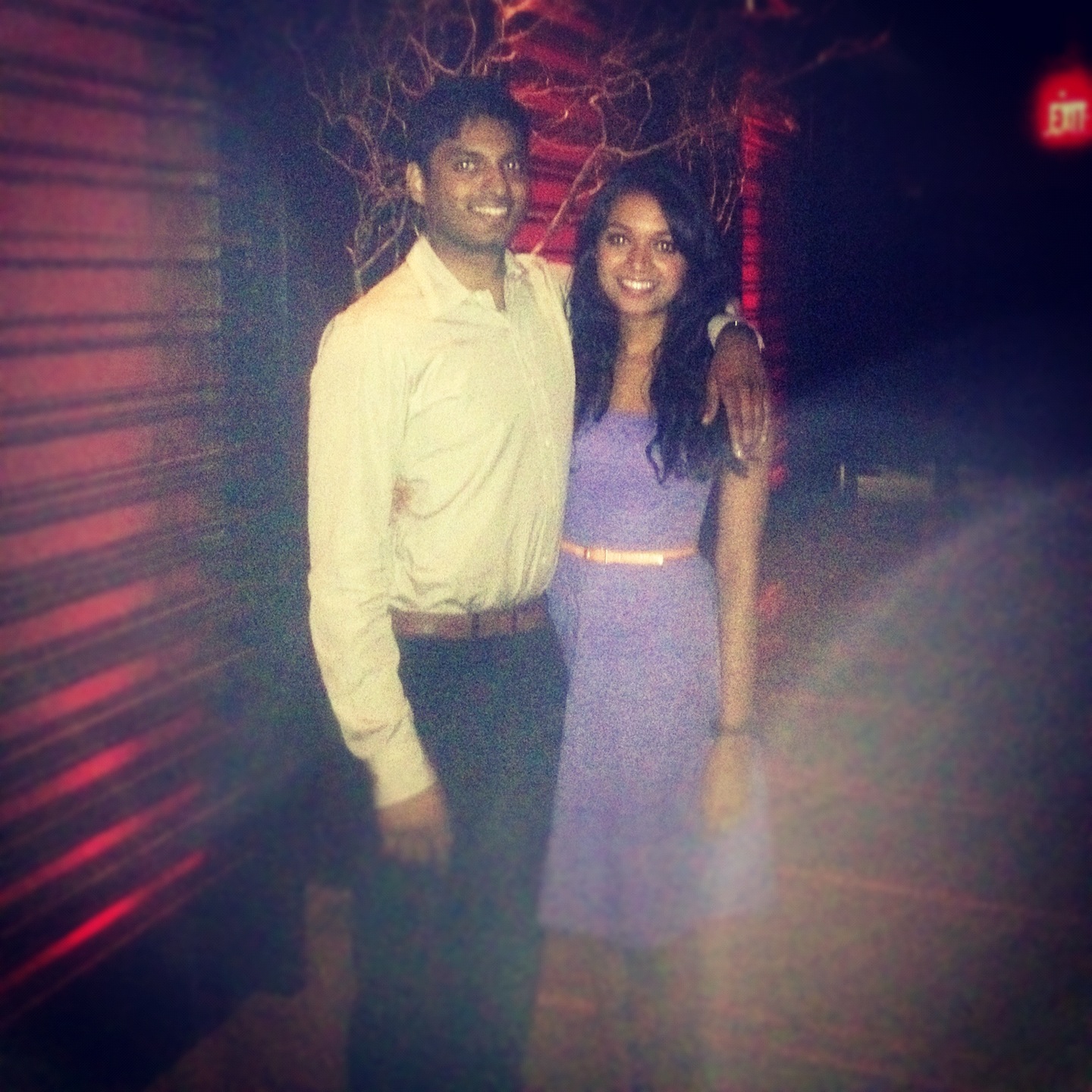 I originally made a reservation for a Thursday evening but missed it due to work and me taking 900 years to get ready- I was taking my sweet time ok? The restaurant so graciously called me to rebook my reservation. This time I made it for a Saturday evening so I had no excuses.
Before I continue with my detailed review, here are some Quick Rates:
Quick Rates (1-10, 10 being the best):
Food: 7
Beverages:8
Service: 10
Ambiance: 8
Price: 6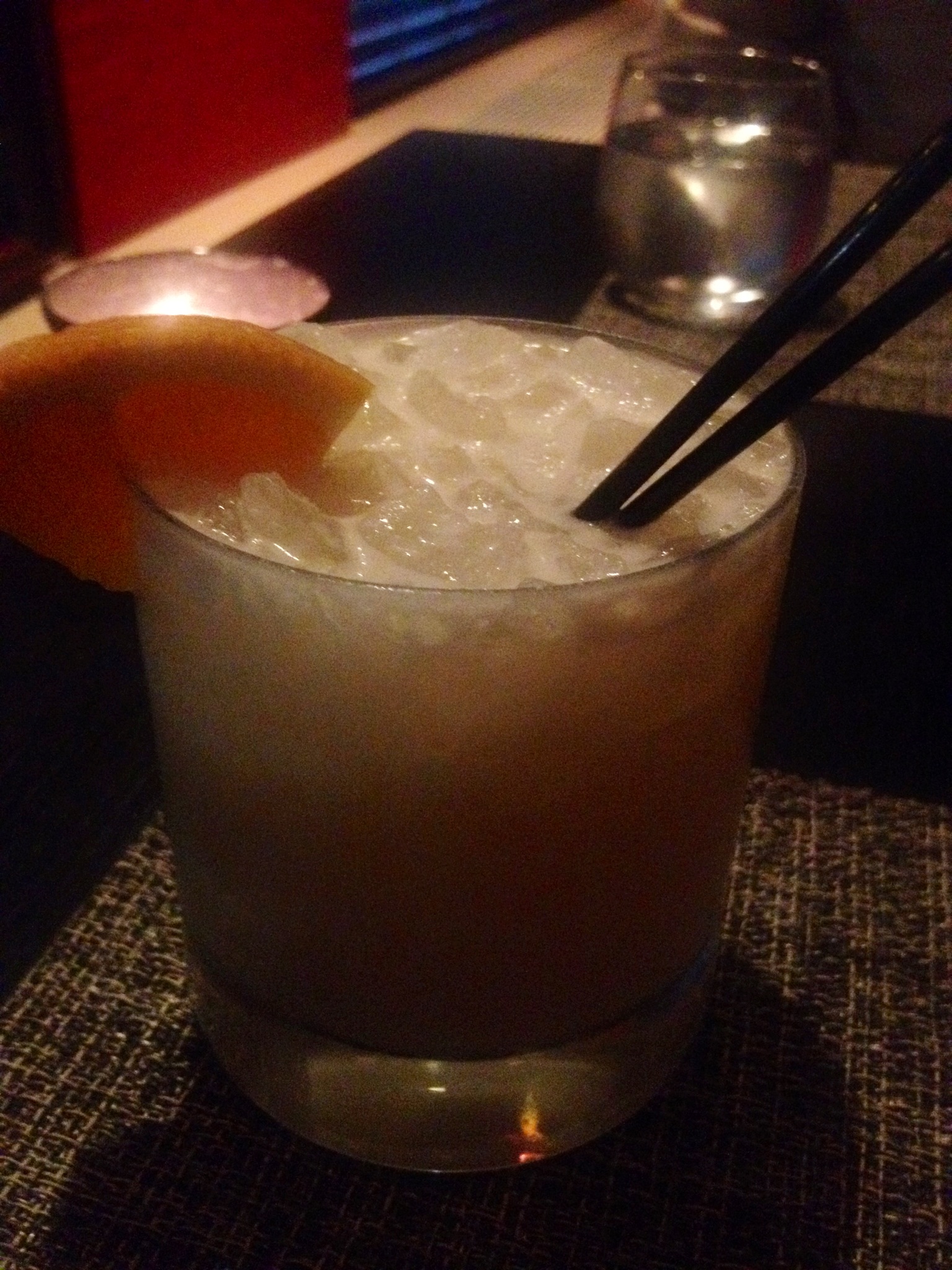 Drinks: I was in the mood for something tropical and creamy and kinda pina colada-ish. I ordered the a drink that had vodka, coconut milk, orange and ingredients that made it sound like it was going to be a creamy and delicious orange creamsicle. It was indeed creamy, but wasn't on the sweet side. And I'm sure you guys know by now that I have a rather large sweet tooth. That being said, I liked the drink- it blended well together and the natural flavors of the vodka and coconut milk really came through. My boyfriend got a beer.. we don't need to discuss it any further haha.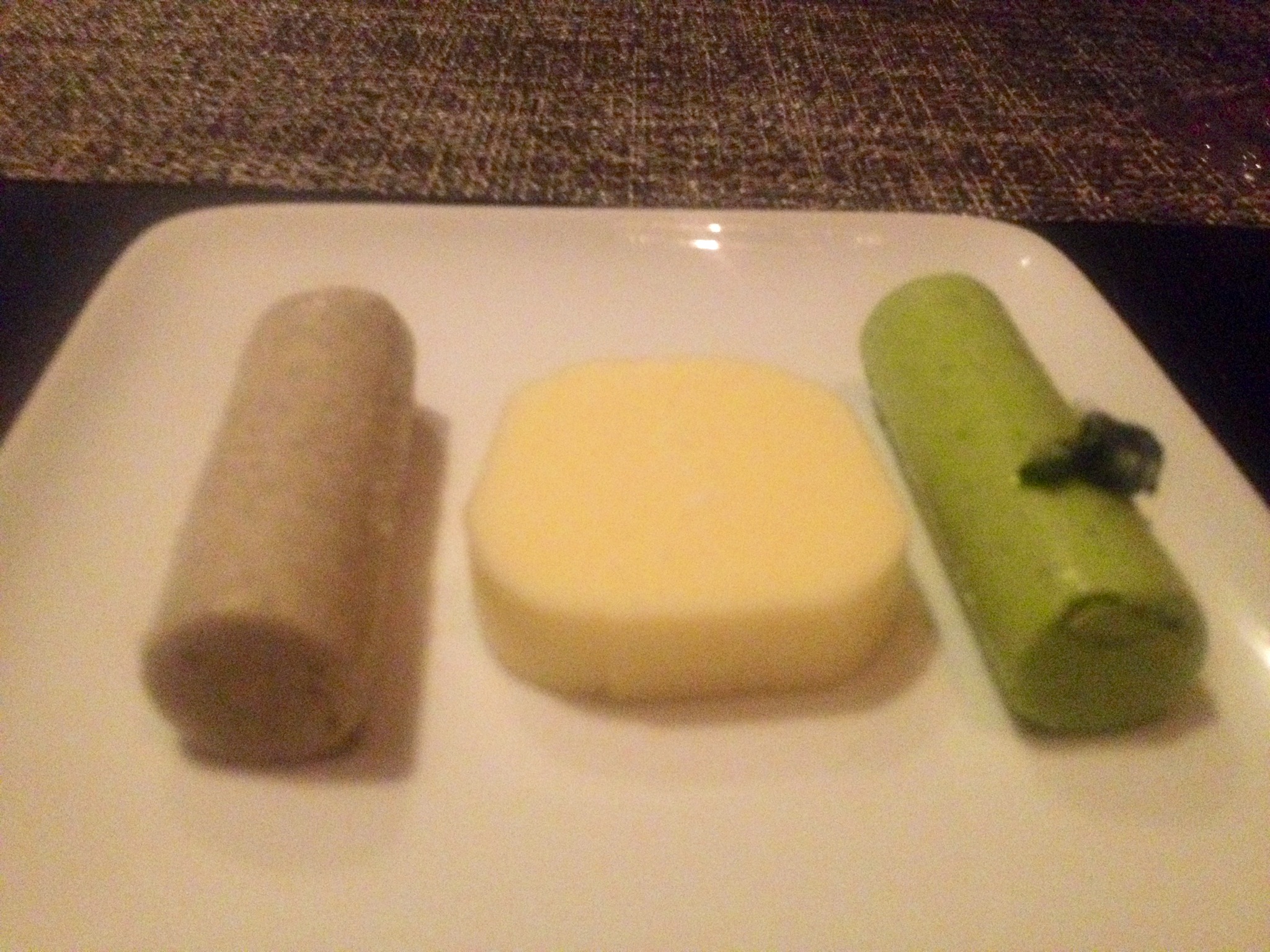 We began our meal with homemade bread and three types of butter: Truffle butter, French butter and Parsley butter. The truffle butter was really yummy- strong taste of truffle infusing throughout the butter. You really only needed to use a small amount to make your bread taste super yummy and fancy. The parsley was butter was not so good- bland and too much parsley makes for a bitter dish (at least I think so).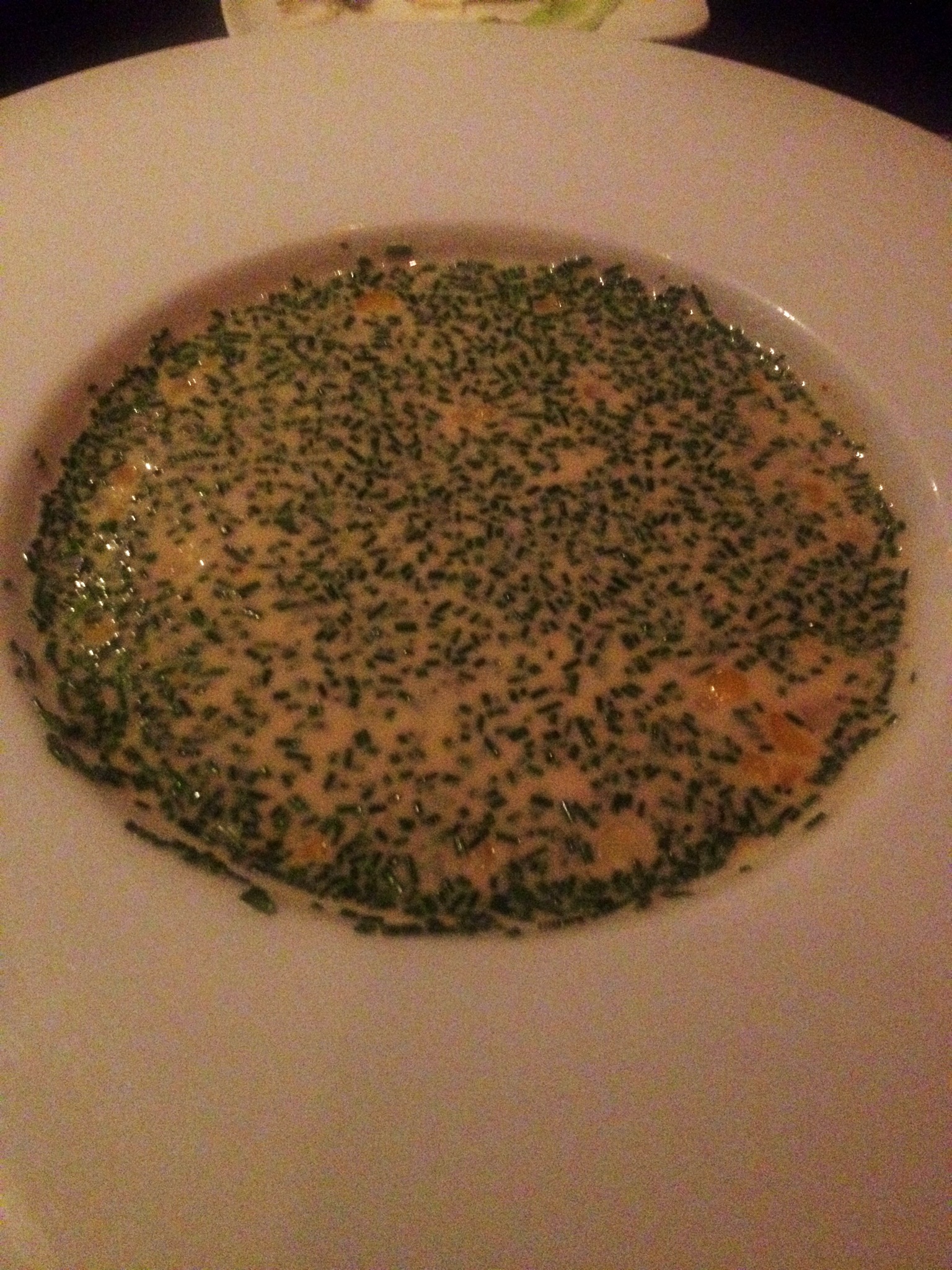 Appetizers: I had 2 options to choose from- a corn and potato chowder or some sort of salad. You can just take a wild guess as to what I chose. Let's just say this, I'm not going to a 26 Zagat rated, high-end restaurant and ordering a salad. I obviously went for the corn and potato chowder. It arrived in a deep set bowl topped with tons of finely cut chives. Each piece of potato was perfectly cut and tender- not mushy. The corn was fresh off the cob- you can tell the difference between fresh and canned. I loved the flavor- it was simple, creamy a bit salty, but the bite of the chives complimented the saltiness. I thoroughly enjoyed my appetizer and the portion was great.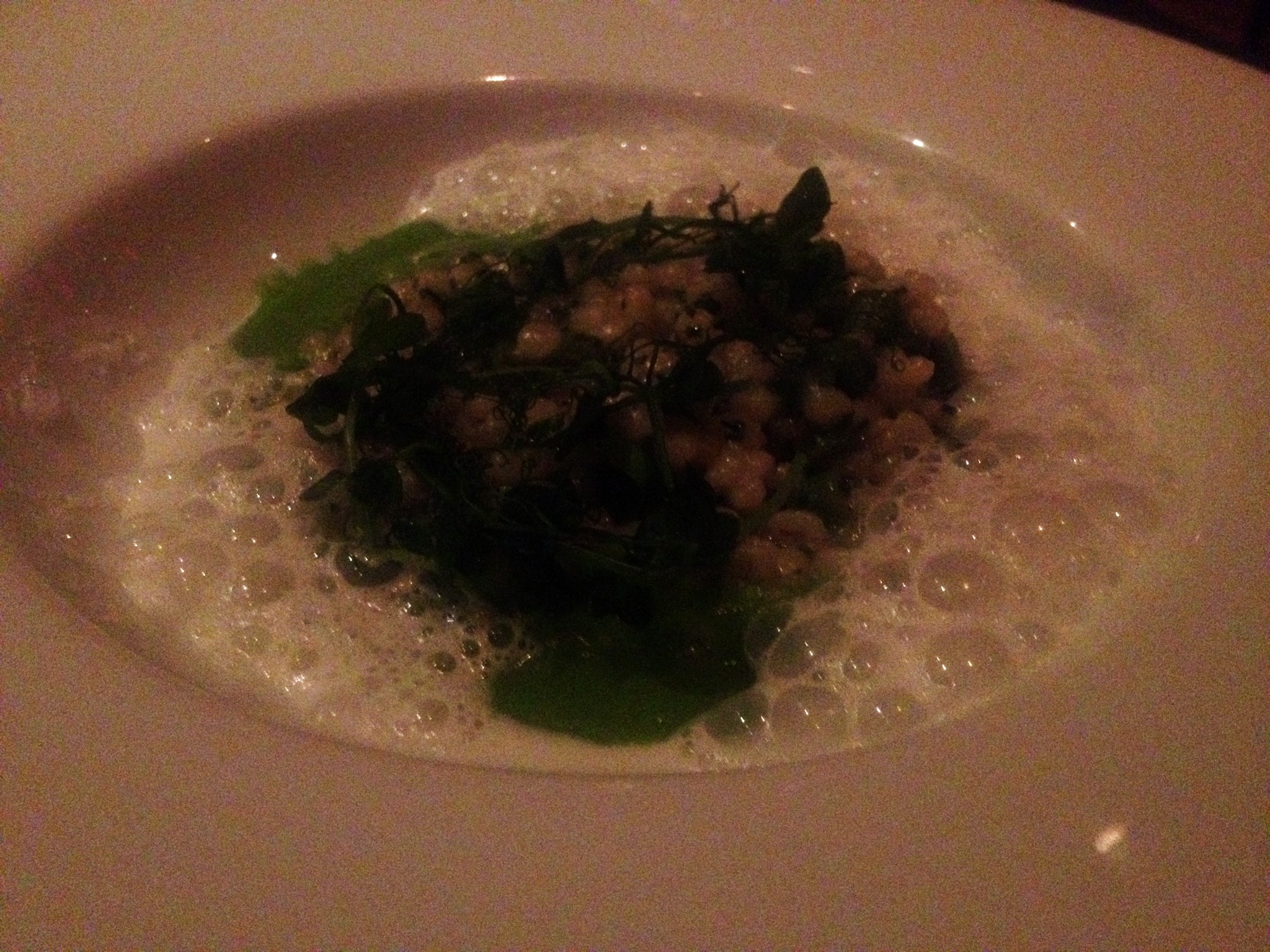 Entree: The vegetarian option was a Split-Pea Barley Risotto with Almond Milk Foam. Ok so, it sounds pretty fancy and pretty tasty, but it really wasn't my thing. It was beautifully presented and the ingredients were fresh and of high quality. However, the taste of split-pea was so strong that that is all I tasted.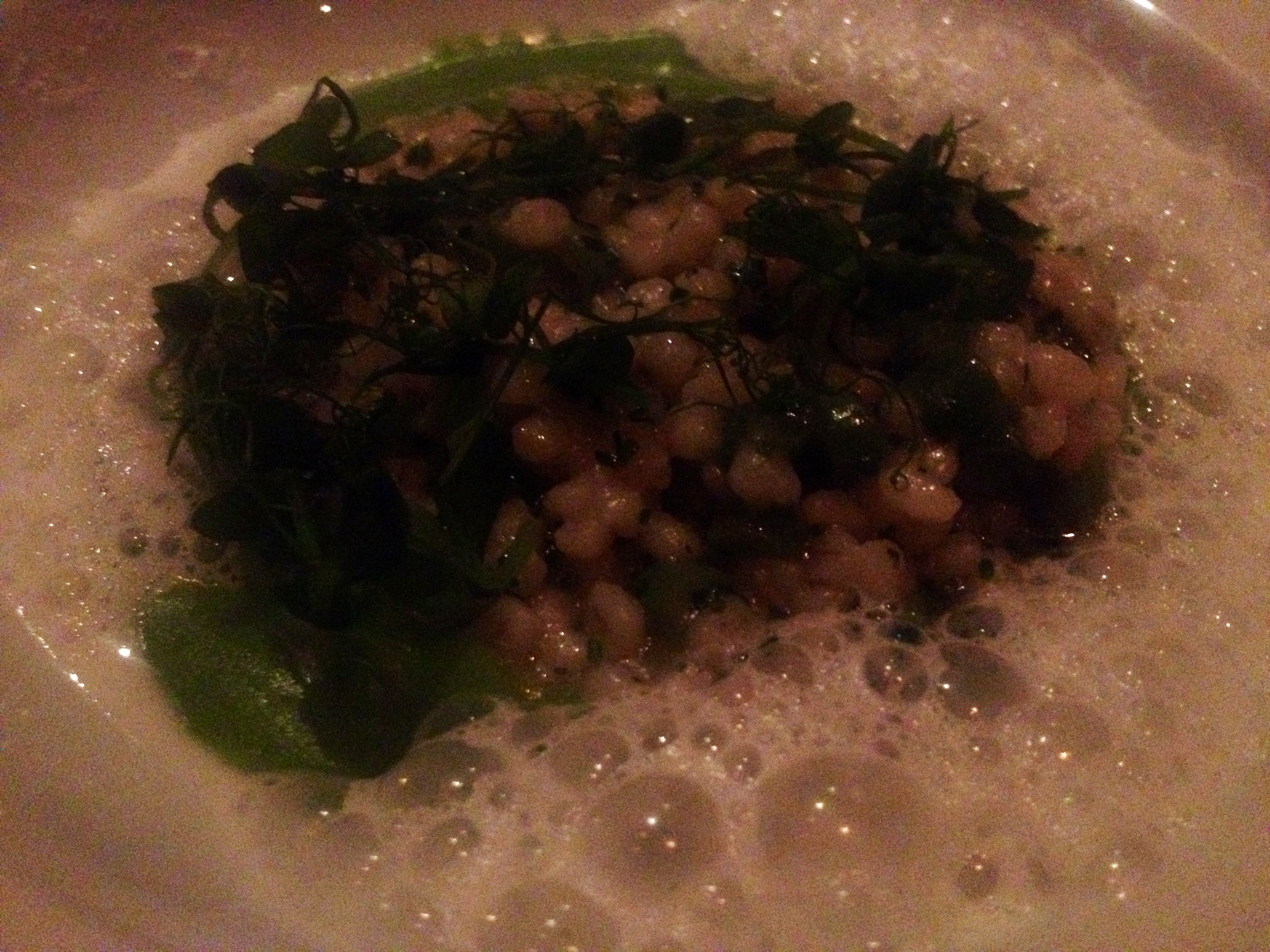 The vegetables were cooked, but only slightly so they were still half raw-ish, and I'm not a fan of that. The dish was also a little too bland for me. It needed something zesty- I just couldn't put my finger on what it needed exactly. The portion was good though. All in all it was an OK dish, just a little too natural and bland for me.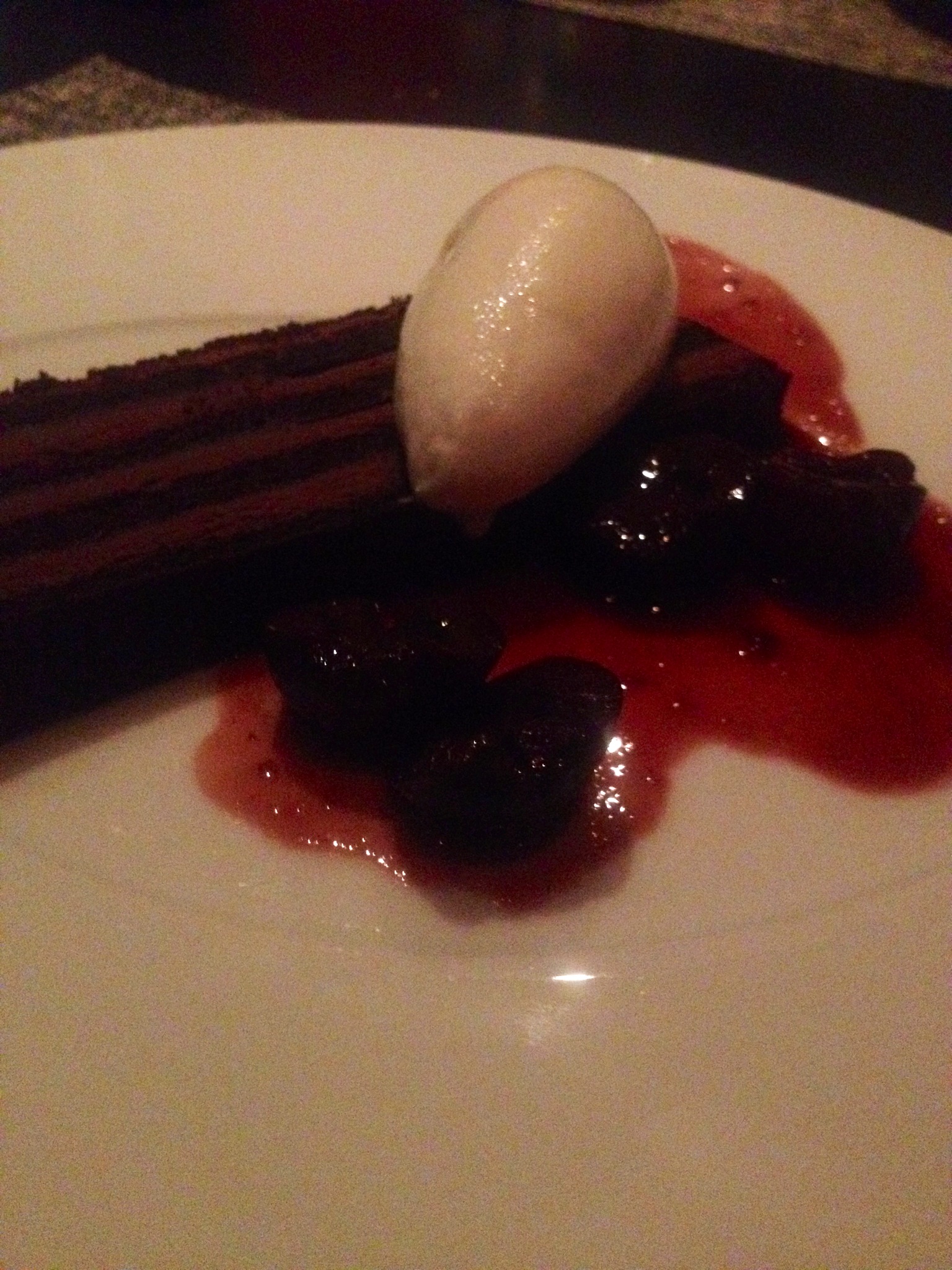 Dessert: I ordered the layered chocolate cake with fresh maraschino cherries and vanilla bean ice cream. This was really yummy.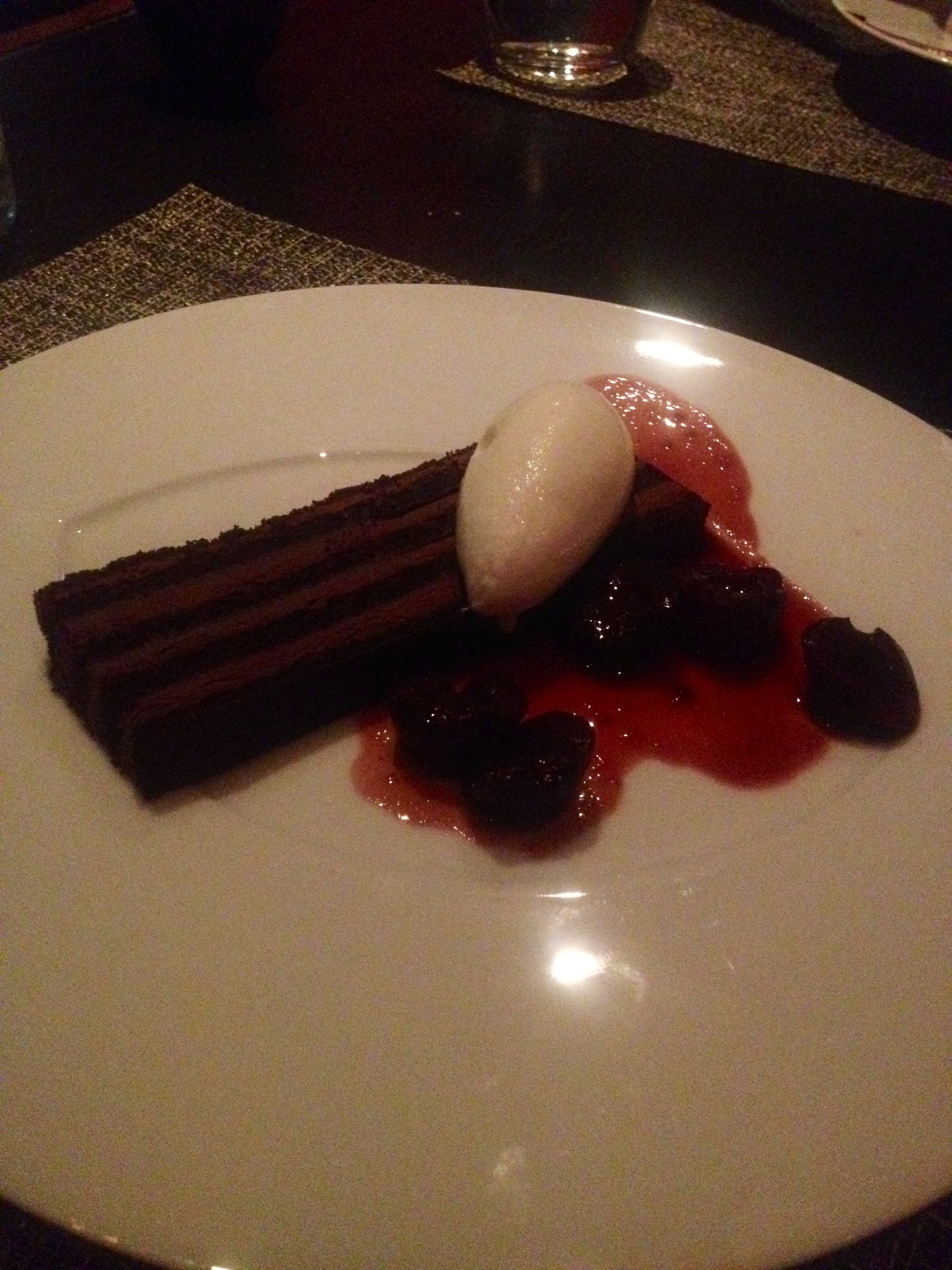 There were whole fresh pitted cherries that they had macerated and made into maraschino cherries- oh man, after eating this, I don't think I can ever eat another jarred maraschino cherry. The cake was a delicately layered dark-chocolate mousse cake- my favorite! I loved the whole dish.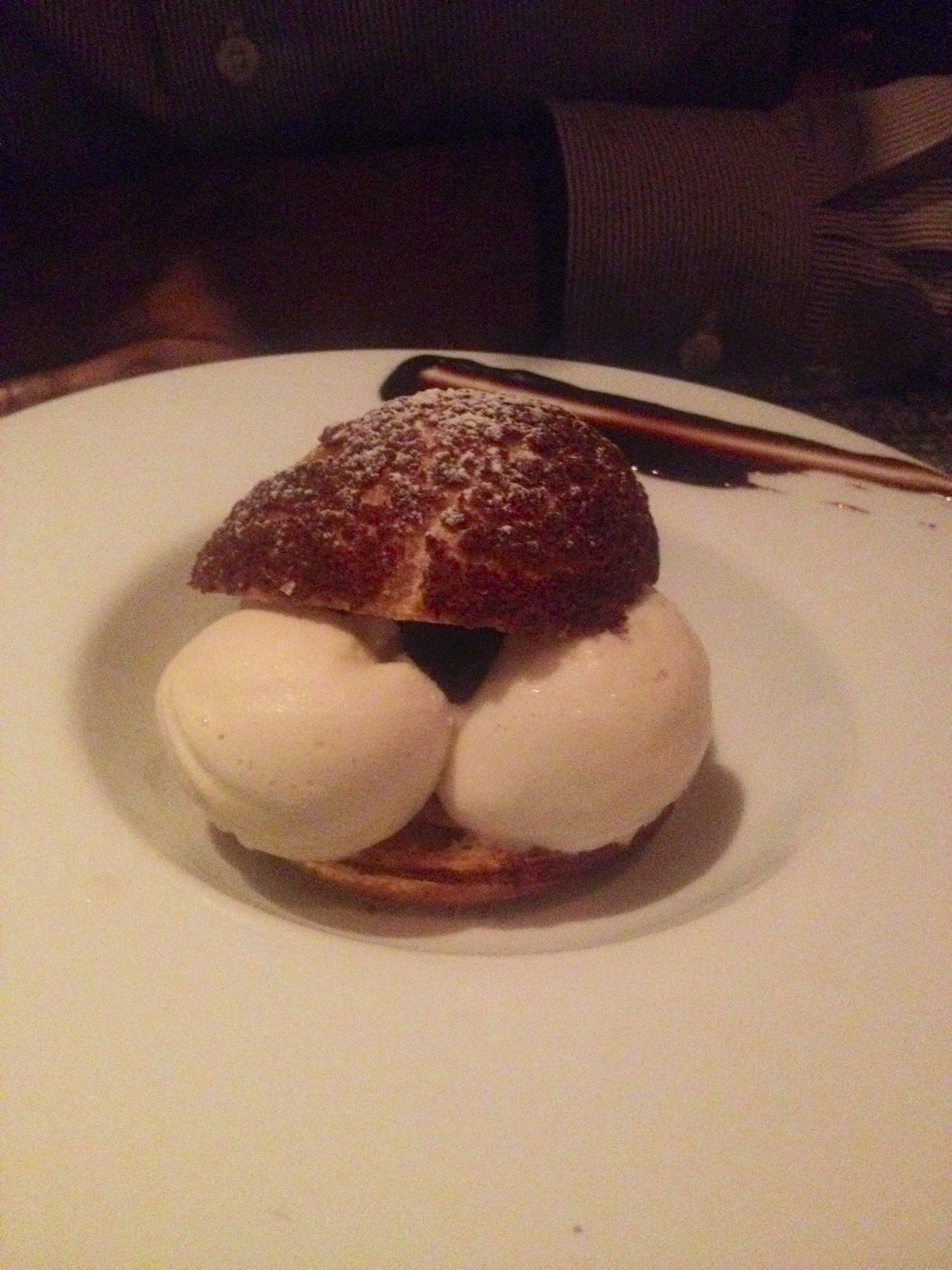 My boyfriend ordered the profiteroles (upon taking my advice ;)) and it came with banana ice cream and chocolate ganache. I know the picture is really funny hehehe (yes, I'm mature I swear!). The pastry was light and fluffy and the ice cream was creamy and complimented well by the thick and decadent chocolate ganache. Also a winner.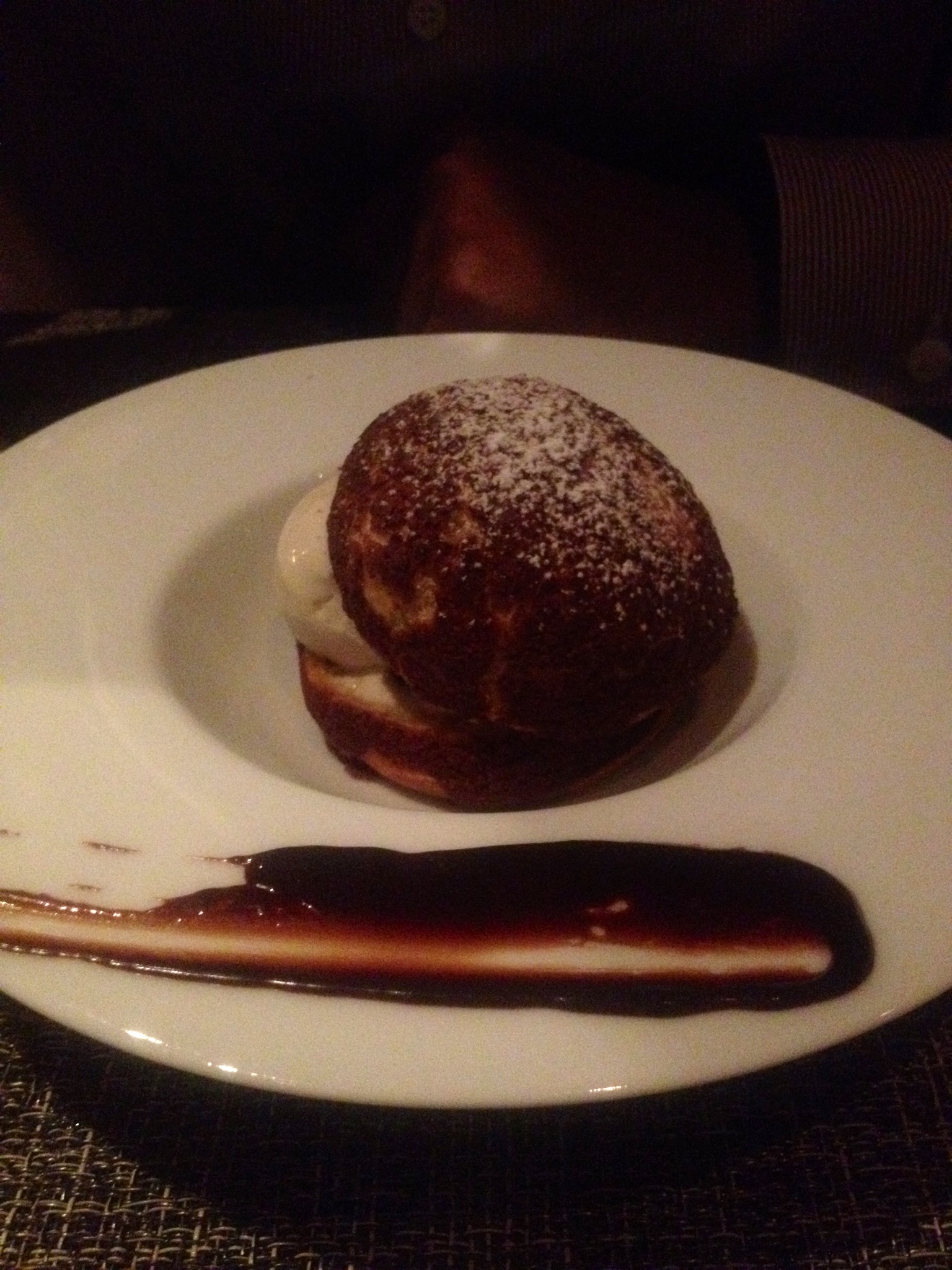 We ended out meal with some complimentary petit fours- so good!! And so nice of them to do that! It was a great experience and the service was great- the entire staff was very accommodating. The atmosphere was nice. I must say the interior is really pretty, but the view of Wall Street and construction kind of takes away from the beauty. I will definitely revisit it once I start making more money and don't have to use a Savored coupon hahaha.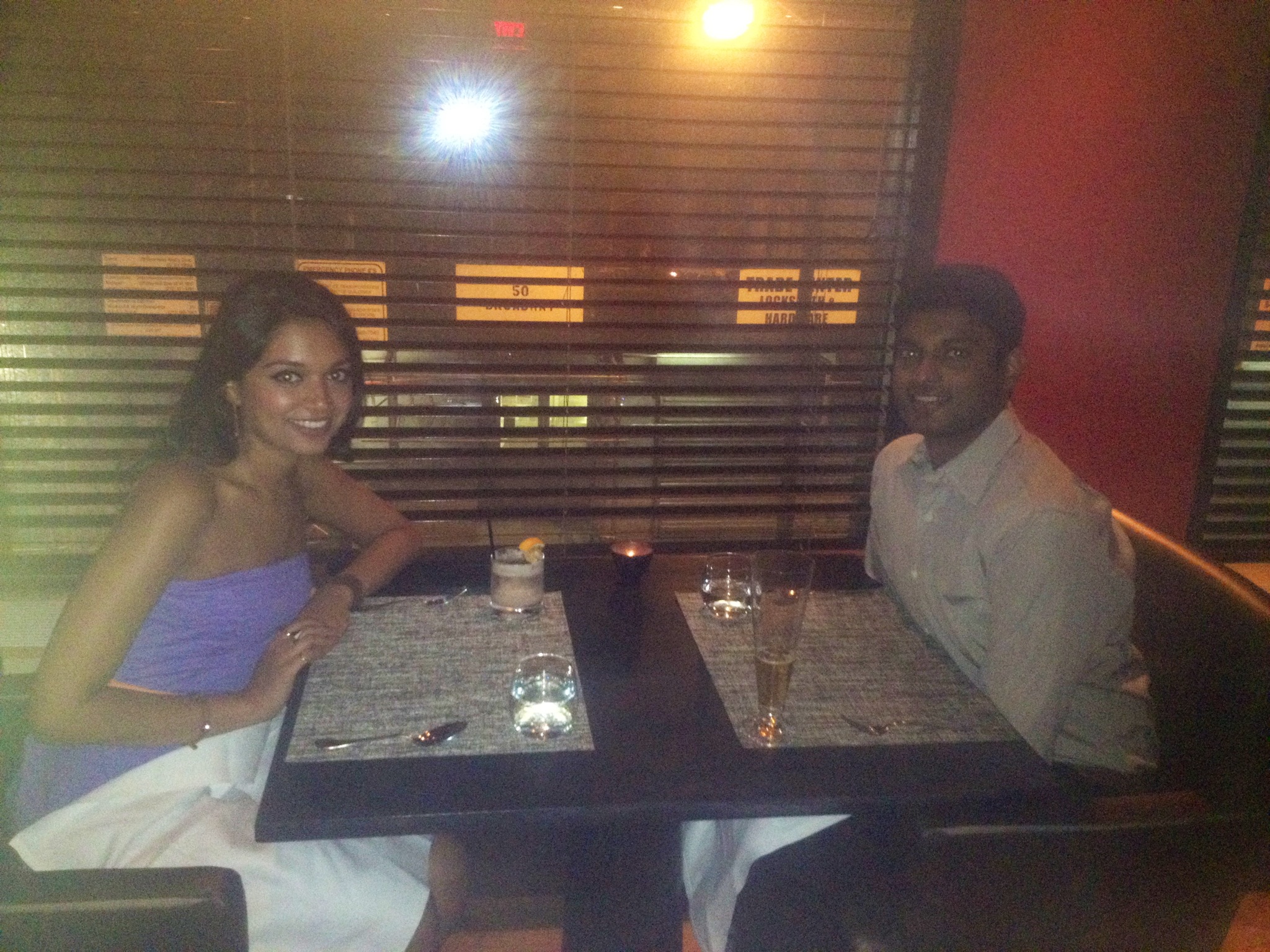 Like this Review and wanna see more?
Restaurant Reviews: Boston Edition