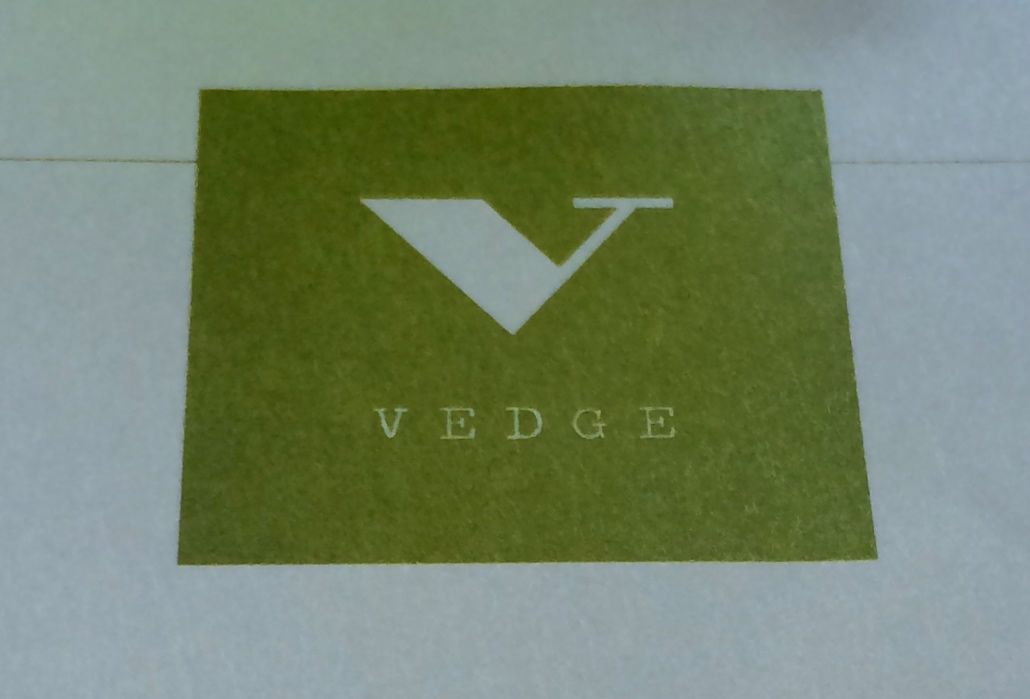 I've heard a lot about the Philly food scene from both family and friends. Everyone raves about how many amazing restaurants sit in this city, so when I went last weekend, I was excited to get a taste of what Philly has to offer. The last time I was in Philly was in January, and I really wanted to go to Vedge – an all vegetarian restaurant. I unfortunately did not get a chance to go in January, so I made it a point to go last weekend. This restaurant has received stellar reviews and even has rating of 28 on Zagat for food, which is amazing! You can say I went to the restaurant with very high expectations.
We actually changed our reservation from 4 people to 2 at the very last moment, and Vedge accommodated without making a fuss. We entered the restaurant and it was very cute – there was a bar to the left with seating and high and low tables throughout the restaurant – it was quite big. I liked the atmosphere – walls were all neutral colors of beige and light browns. We were seated at a four person table by the window. Before I get into the details of the food, here are some Quick Rates:
Quick Rates (1-10, 10 being the best):
Food: 7
Beverages: 8
Service: 8
Ambiance: 8
Price: 5
The menu is rather small – there are 3 sections: 1 for cold vegetable dishes, 1 for hot vegetable dishes, and sides. What I like about the menu is that you're not restricted – you can pretty much do what you want. You can either order a bunch of things and share them or you can each get your own individual dish. However, the one thing that will restrict you from completely doing what you want are the prices. Vedge is definitely on the upper end in terms of prices, and I'm sure you all know how I feel about paying an exorbitant amount for vegetables. We decided to share one cold dish, get 2 hot dishes as our entrees, and share one side dish.
Drinks: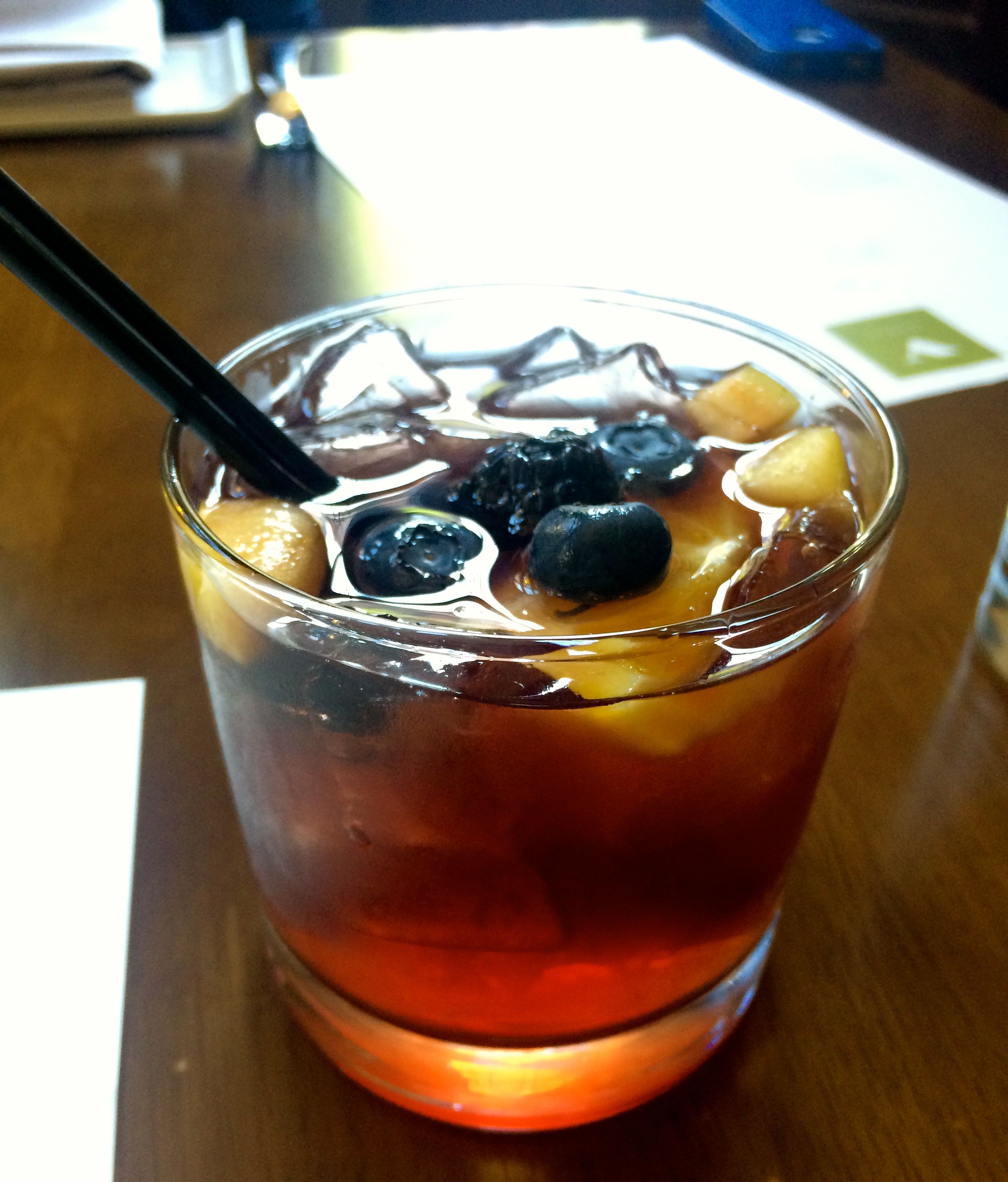 They have a pretty cool drink menu, and I was initially going to have a mock tail, but decided I would try one of their actual cocktails. I went with something light, as we were having an early dinner. I ordered the Pomegranate Sangria. I was surprised by the glass it was served in – usually when you think sangria, you think of a wide-mouth tall wine glass. However, this was served in a regular cocktail tumbler. It was very good though – sweet and not overly strong. I think I drank it just a little too fast!
Appetizer: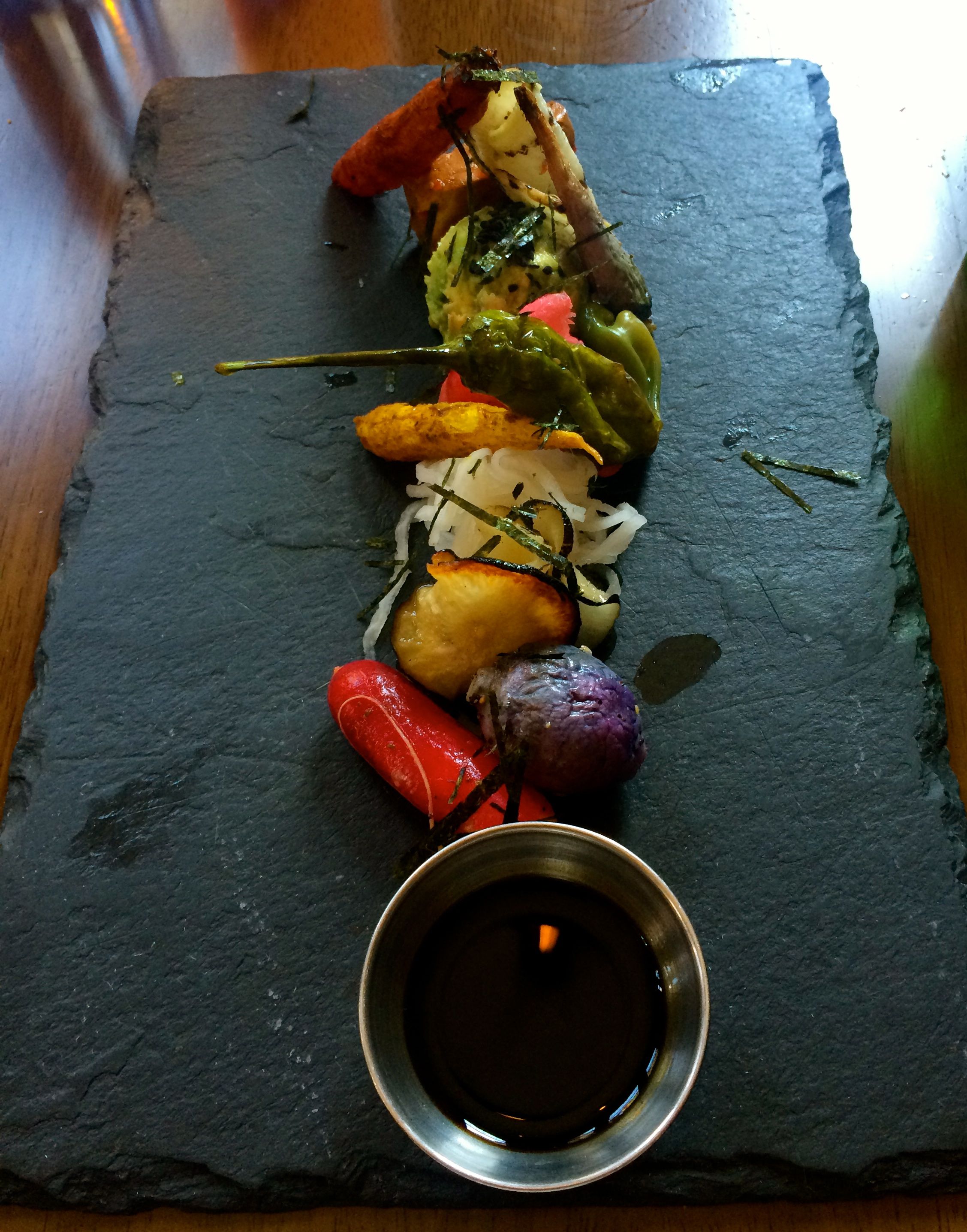 We ordered the 'Fancy Radishes' – with shishito peppers, avocado, pickled tofu, and smoked tamari. The dish came on a thin slab of charcoal colored stone – the plate was awesome and the dish was very pretty. The waiter did warn us that the portions were small, and he was definitely not lying there. There all different types of radishes, and they were served a small scoop of an avocado guacamole, and a soy sauce dipping sauce. There were 1-2 pieces of everything, so we pretty much just split everything in half. This dish could not be shared by more than 2 people. I have a few bones to pick about this dish.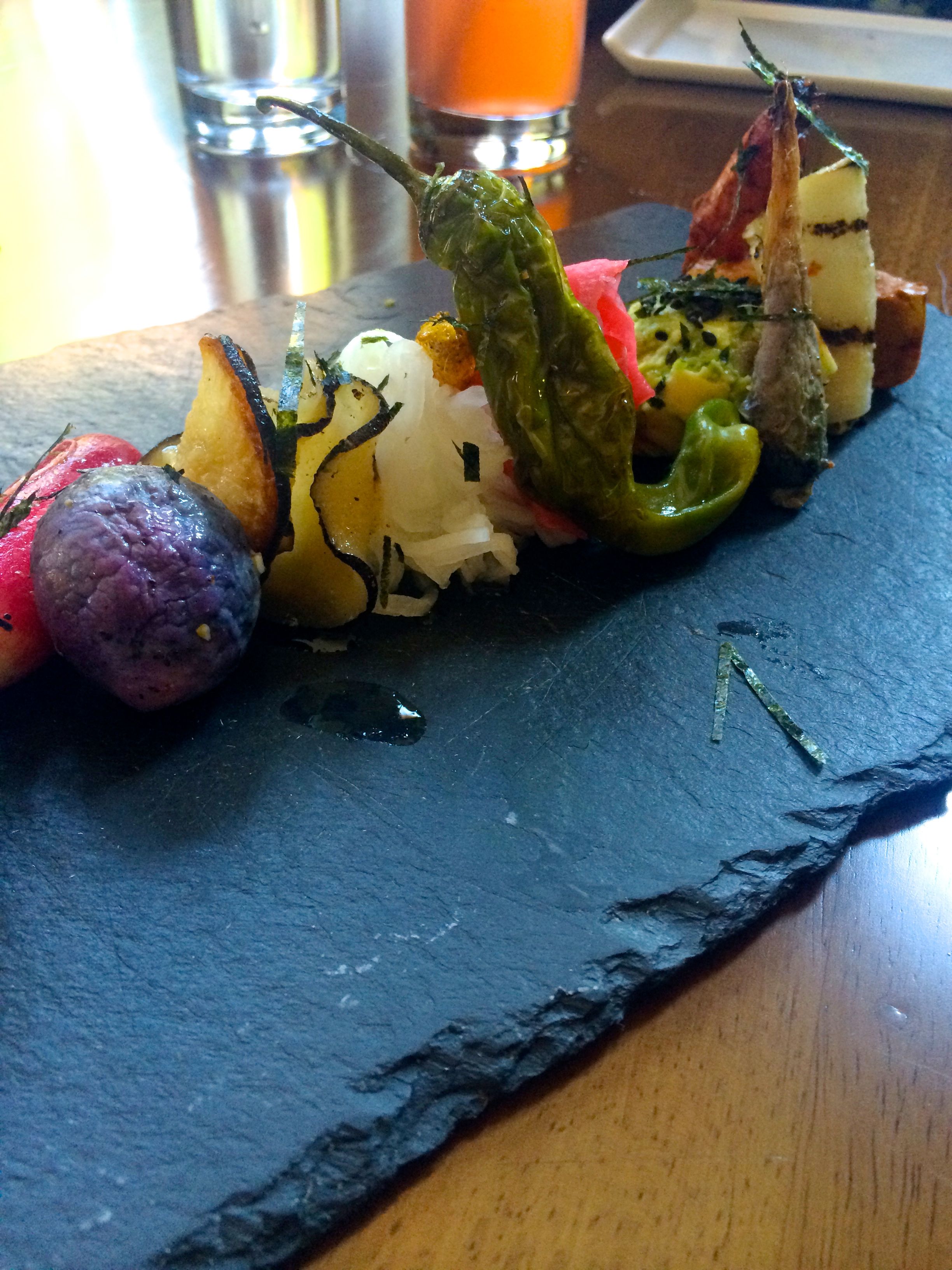 First, I thought the soy sauce dipping sauce was very boring – it was just straight up soy sauce. They could've tried to be a little more creative here. Second there was only 1 shishito pepper. Third, most of the whole radishes were raw, and raw radish is now exactly the best tasting vegetable. What I'm trying to get at is it seemed to be a bunch of raw radishes, with some pickled ones thrown in there and then a scoop of guacamole. I honestly wasn't a fan. I thought the portion was too small, and that all of the radishes should've been pickled or cooked in some way. But the quality of ingredients were very good – extremely fresh.
Entree: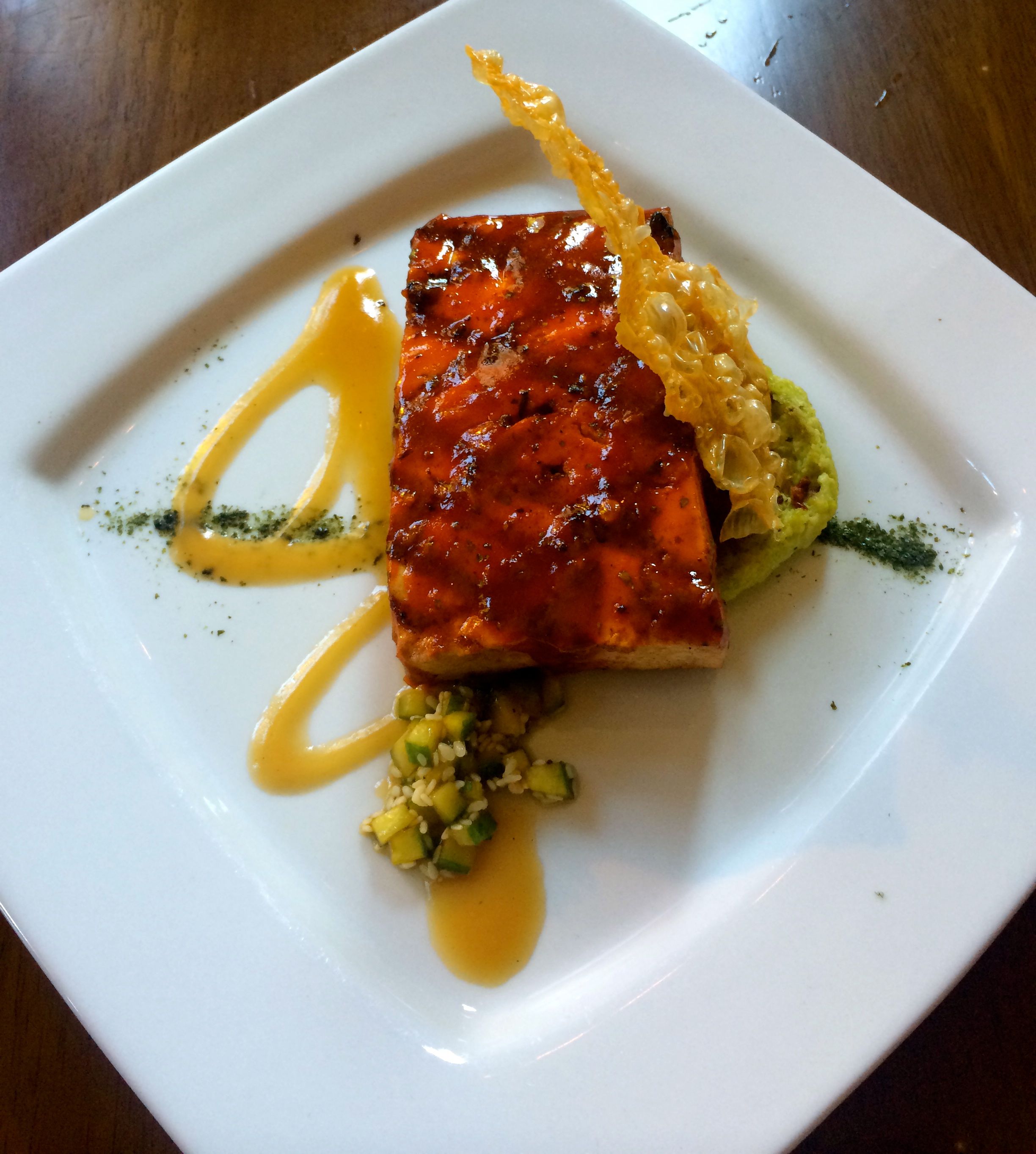 I ordered the Spicy Grilled Tofu with gochujang, edamame, smoked miso, and yuba cracklin. Again, the portion was small, but this dish was tasty. I could've used some chilies on it, as the miso sauce was a little too sweet for me (the only thing they had to offer was siracha – ew).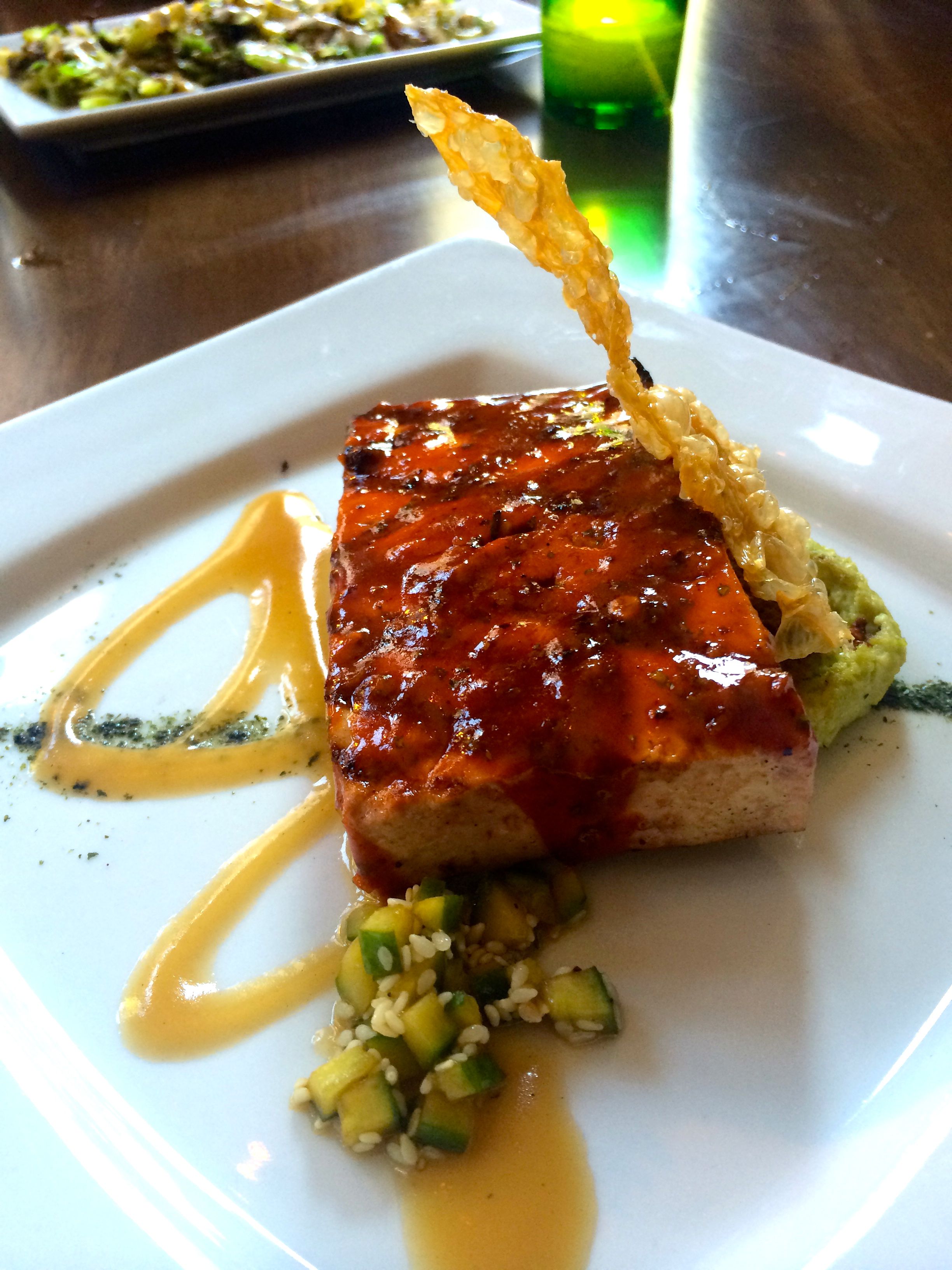 One issue I did have with this though was the tofu – it wasn't silky and was rather bland. I think they could've marinated it a little longer and maybe have used better quality tofu. If you're going to charge me $14 for a dish, then it should be worth $14.
Side Dish: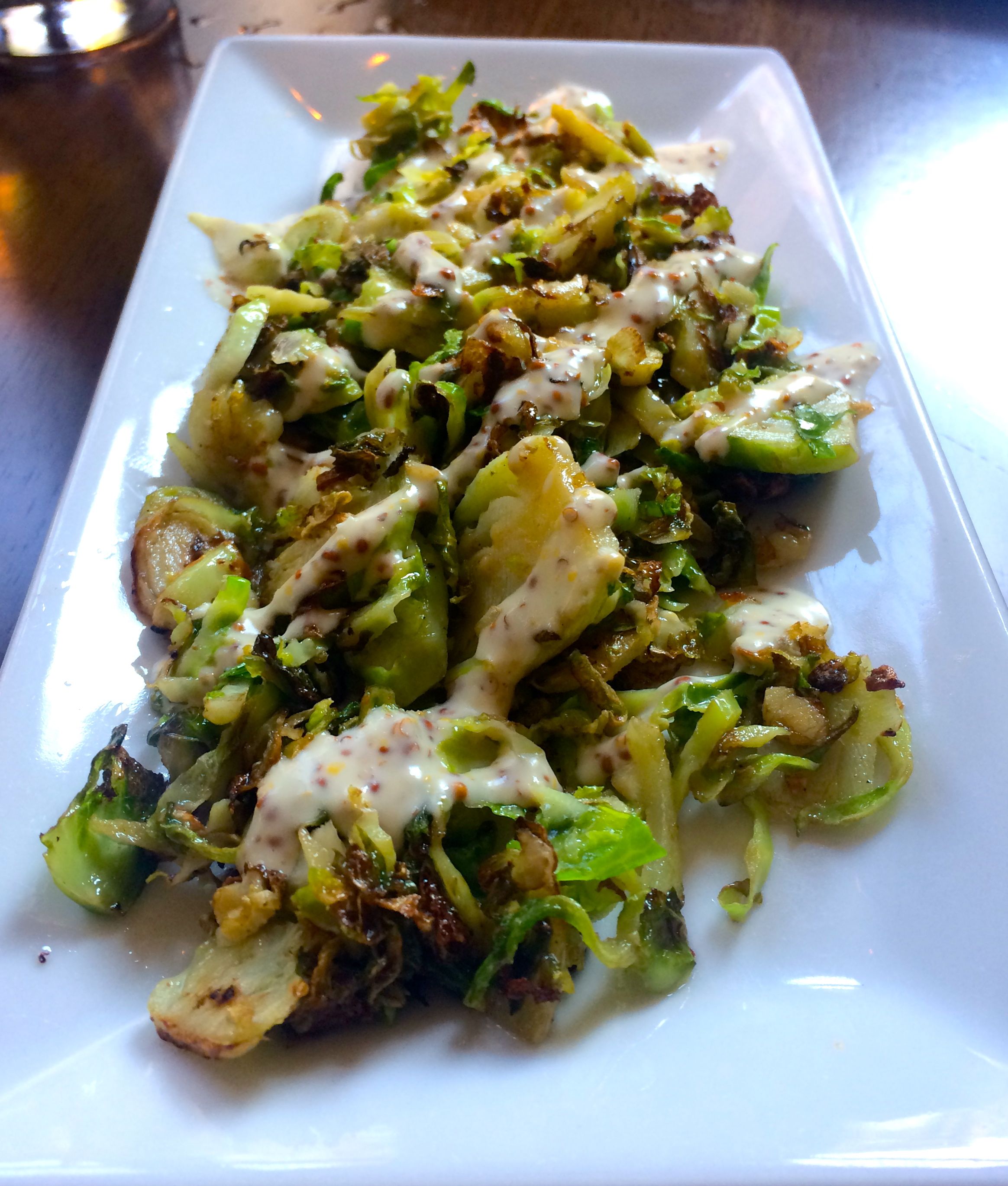 We ordered the Brussel Sprouts, which were shaved, grilled and made with smoked mustard. They were cooked really well, but a bit bland and the smoked mustard sauce was more like a honey mustard, so I didn't like the overly sweet flavor. And again, the portion was quite small.
Dessert: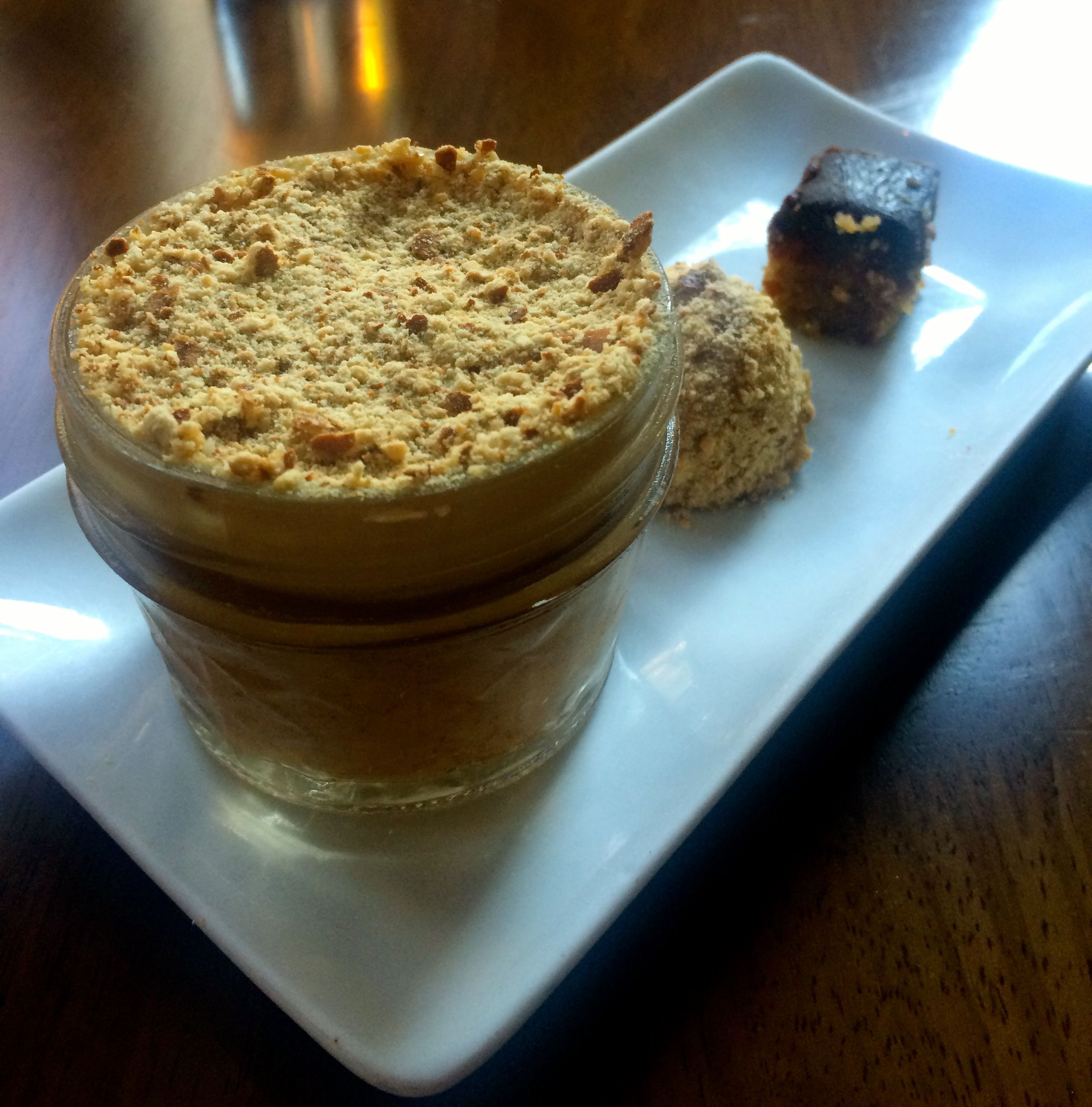 I think this was the best part of the meal. Then again, I generally love dessert more than actual food. Of course I end up ordering the dessert called 'Chocolate Uber Crunch,' which was pretzel-peanut crust, malt custard, and stout ice cream. It was like a light peanut-buttery flavored custard, topped with a sweet and slightly salty pretzel crust, with a side of a small scoop of stout flavored ice cream and a dark chocolate truffle. I think the dessert was really good – the stout ice cream on it's own is a little weird, but when eaten together with the custard, it tasted really good. I thoroughly enjoyed this and pretty much finished it on my own. Surprise surprise.