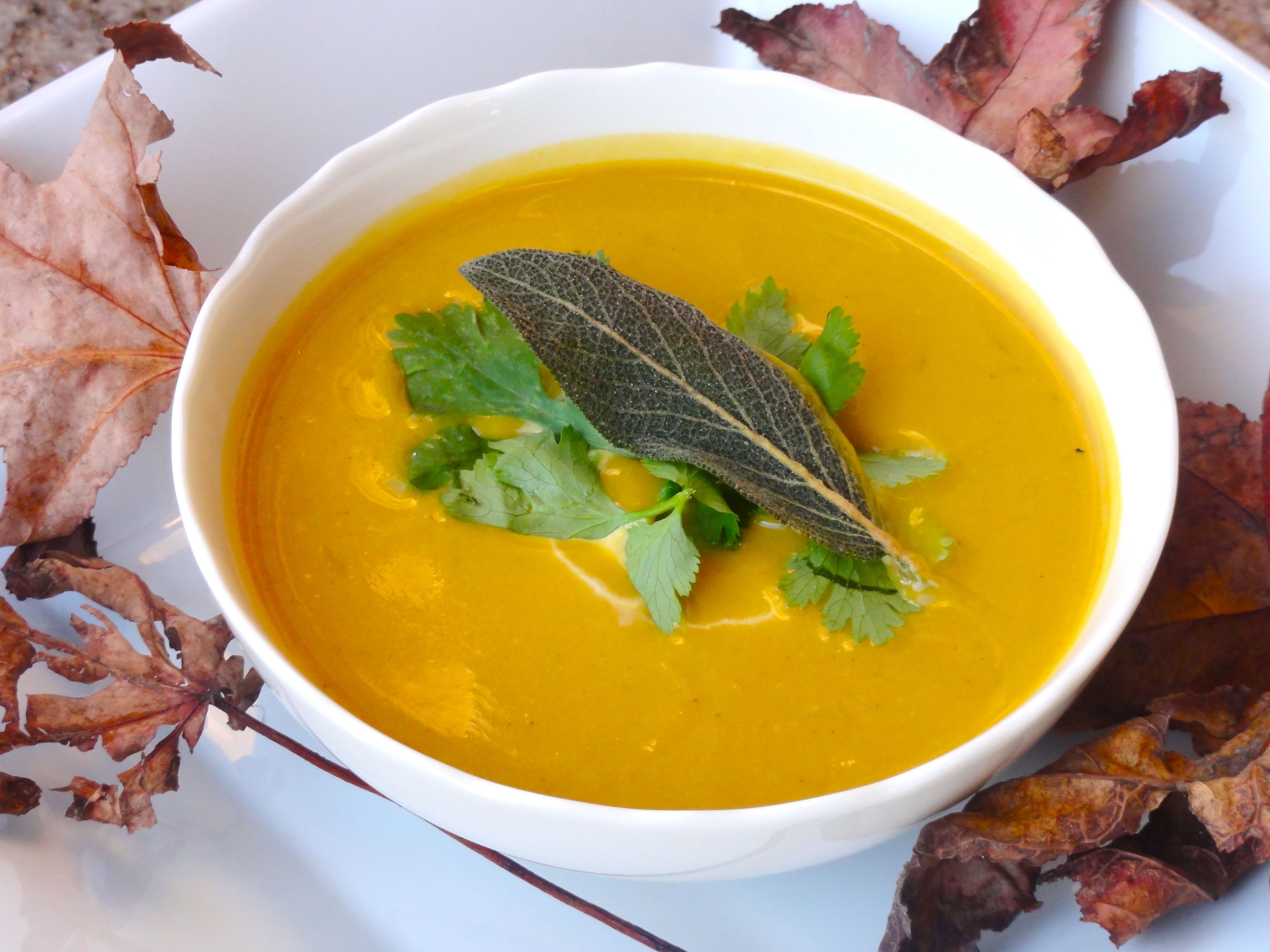 It's autumn. It's cold. It's actually not my favorite time of the year. However, I do like the seasonal fruits and vegetables around this time- pumpkin being one of my favorites. They're not just for carving and lighting up or in some obnoxious cases throwing at people or things. I've been wanting to make a Roasted Pumpkin Soup and thought this was a great opportunity. I combined some tradition fall flavors and spices with some of my own Indian spices, and it turned out to be a really yummy soup. It's also very healthy- full of hearty vegetable and pumpkin which is fiber and protein. I must say, it takes some time to make (about 2 hours), but its not difficult and it's definitely worth it!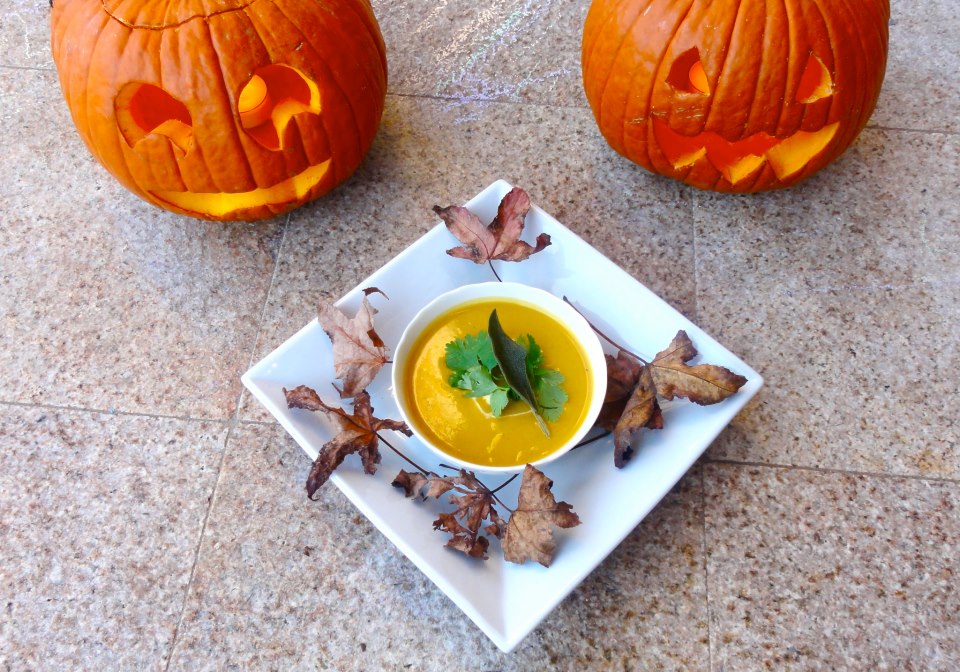 Roasted Pumpkin Soup with Cilantro & Crispy Sage:
bunch of fresh sage leaves (with a few leaves reserved on the side)
1 medium sized pumpkin- cut in half and gutted
1 large white onion- diced
2 jalapenos- diced
1 carrot- diced
2 cloves garlic- minced
1 tsp ginger– minced
1 tsp cinnamon
1 tsp nutmeg
pinch turmeric
1 tbsp light chili powder
1 tbsp brown sugar
1 carton (about 32 oz) unsalted vegetable broth
1/4-1/2 cup fat free half & half (or vegan substitute)
extra virgin olive oil
PAM Olive Oil Spray
salt- lots
coarse black pepper
handful of cilantro- finely chopped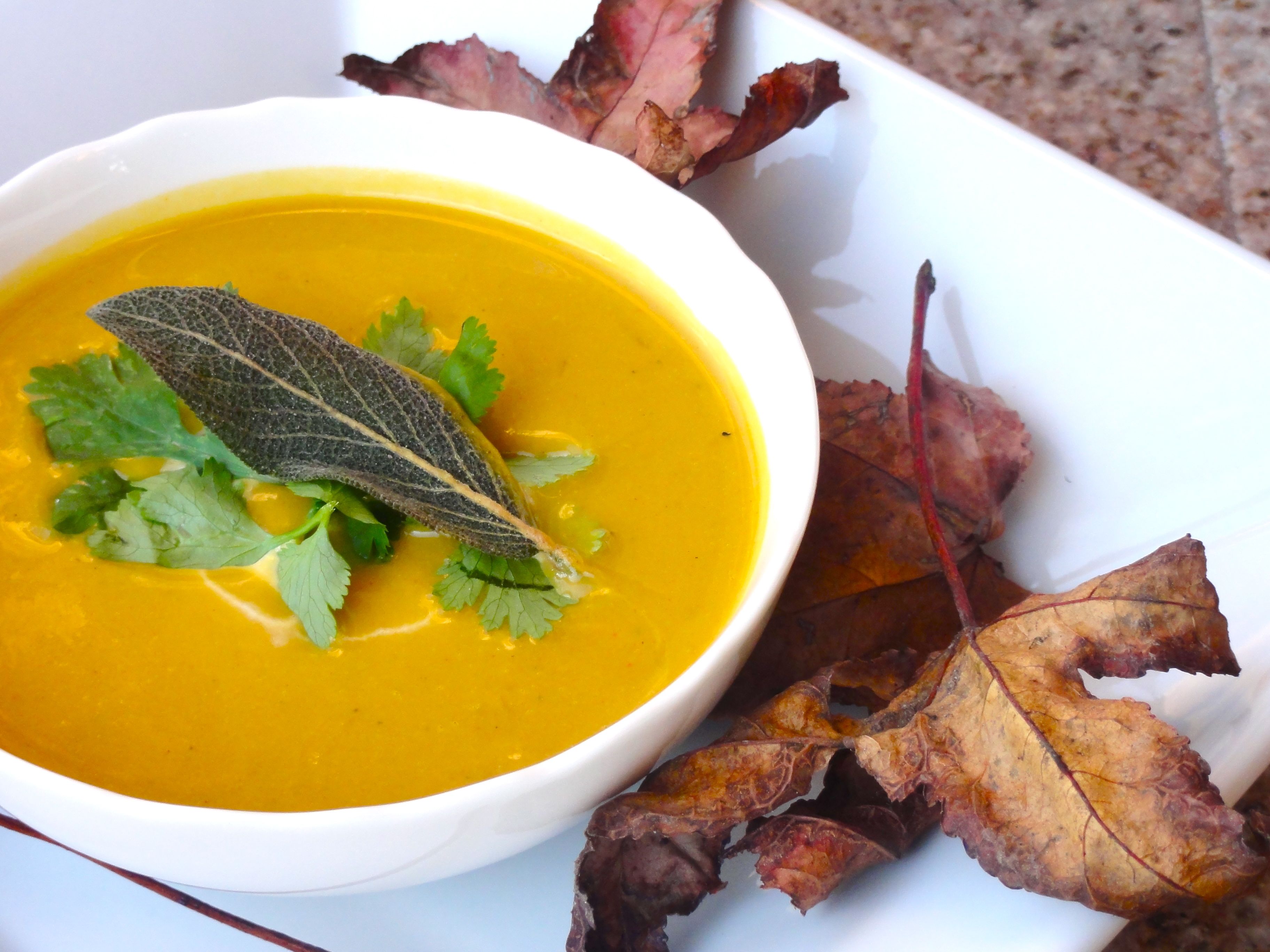 1. Preheat oven 350 degrees. Cut the pumpkin in half- I found that using the carving tool from a pumpkin carving knife set works best. Gut out the middle. Place on a parchment lined baking sheet cut-side up. Spray with PAM and sprinkle with salt, pepper, 1 tsp chili powder. Flip over and spray with Pam and drizzle with olive oil. Place into the oven and roast for 45-60 minutes until completely tender and able to pierce with a spoon. Remove and let cool until it's cool enough to handle. Scoop out the pumpkin meat and set aside until ready to use. Discard the peel.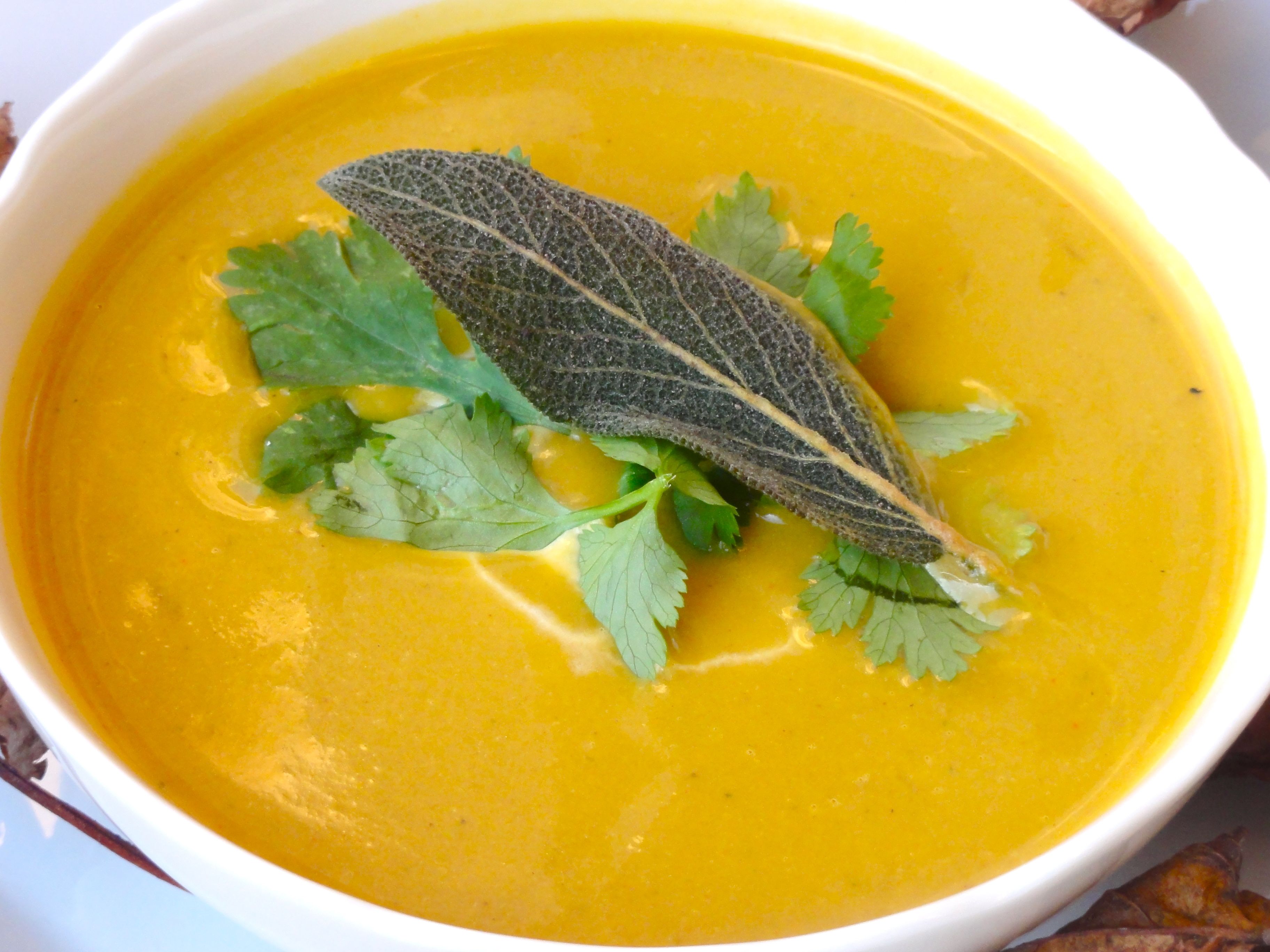 2. In a large pot pour in a liberal amount of olive oil until the bottom of the pot is covered and set over medium-high flame. Add in the sage leaves and cook for about 1-2 minutes on each side until they crisp up. Remove and set on a plate lined with paper towel to drain oil. In the sage-infused oil add cinnamon and nutmeg and cook for about 30 seconds until fragrant. Add onions, garlic, jalapenos, carrots and ginger. Saute for a few minutes over medium flame. Sprinkle with salt, pepper, chilli powder and a pinch of turmeric. Chop up the reserved sage leaves and add to the pot. Saute the mixture for another 5-8 minutes. You want the mixture to be caramelized and cooked through. Taste for salt and spice. It will likely need more salt. Meanwhile in a separate pot, heat up the vegetable broth over medium-high flame.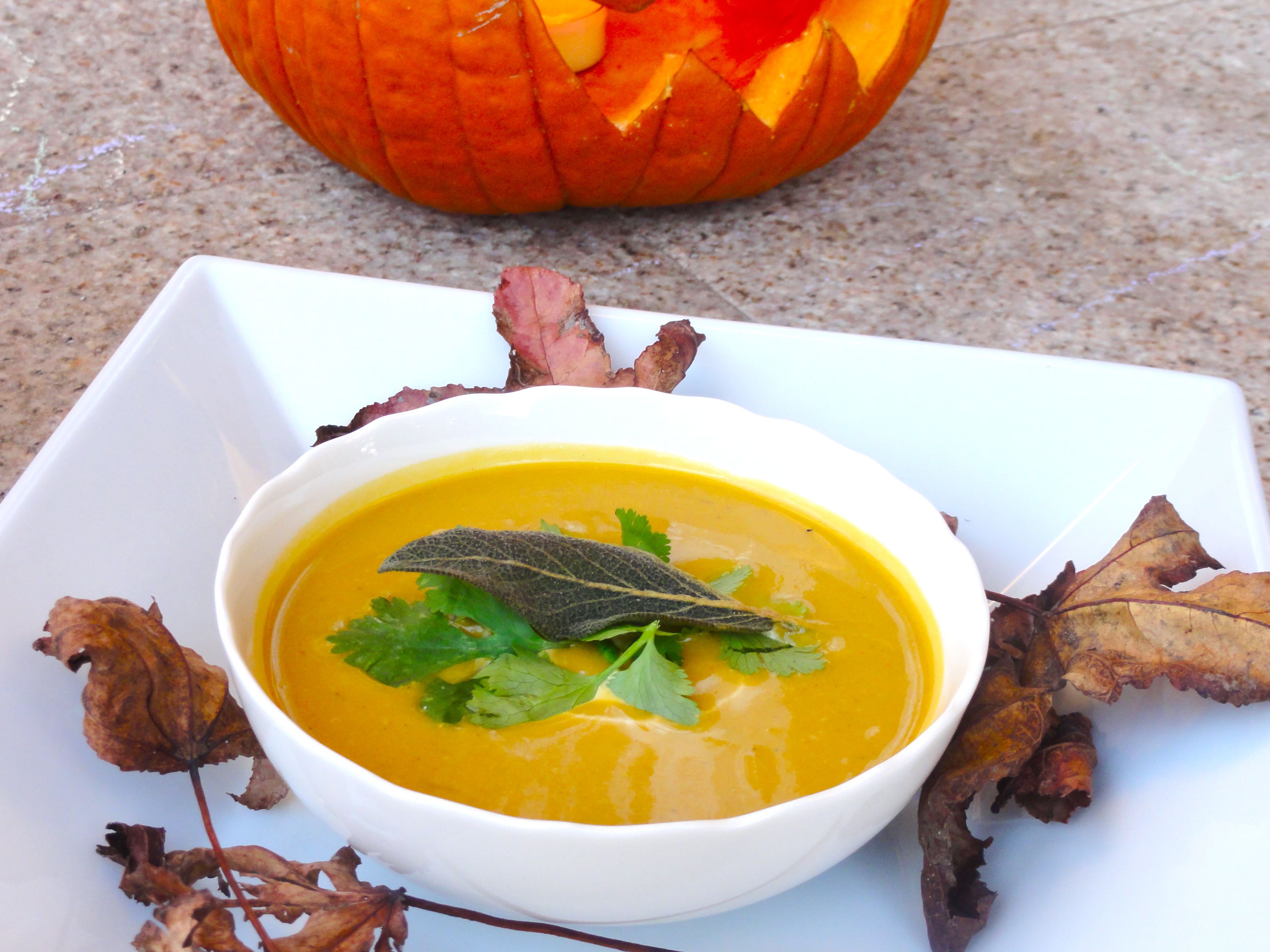 3. Once the vegetables are thoroughly cooked, add the roasted pumpkin. Mix well with the vegetables until coated well. Cook for a few minutes so the pumpkin is flavored through. Taste for salt and spices- again it will likely need more salt, as the pumpkin is sweet and you need a bit of salt to balance the flavors. Add in the chopped cilantro. Ladle in the hot broth and stir. Either transfer to a blender in batches or using a hand blender, blend the soup until smooth and creamy. Add the half & half and stir. At the very end, add in the brown sugar- it give it a nice sweetness to balance out the spiciness of the jalapeno and chili powder. Taste and adjust for spices/salt as needed.
4. Serve in a bowl and top with a few leaves of crispy sage and some cilantro. Eat with fresh baked bread-yum!
Serves 6
Like Soup? Try This!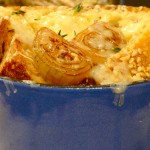 French Onion Soup (vegetarian)