As you may know, I love making egg-white omelets- they're filling and super healthy, and as a vegetarian, its a great source of protein.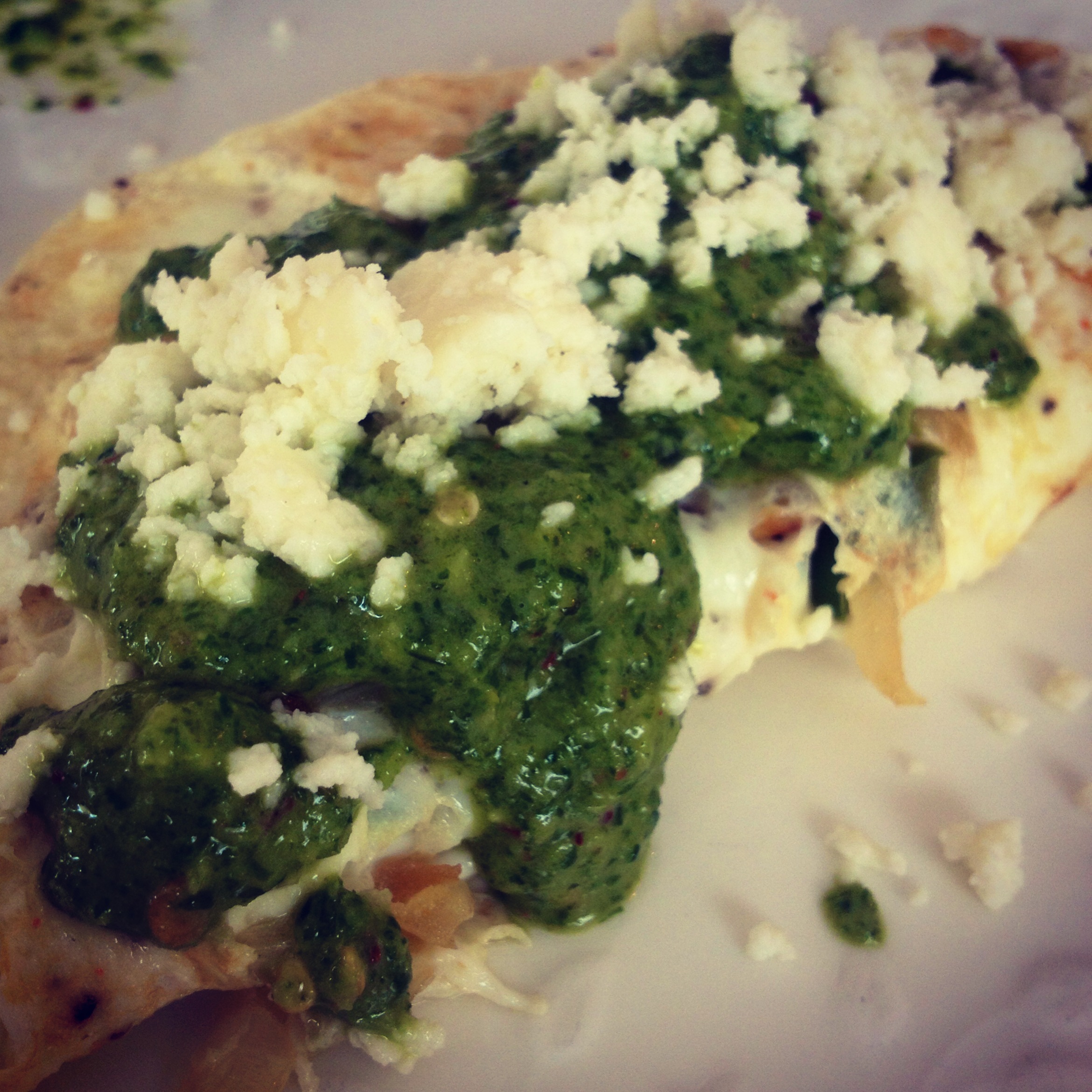 I wish I took some pictures, but everyone just gobbled them up before I could!
We love Mexican, Tex-Mex, and Southwestern flavors in my house. Its bold, spicy and uses a lot of chilies. I've been wanting to make a Chimichurri sauce for a while, and since my family and I wanted omelets for brunch, I thought why not eat the Chimichurri sauce with it? There's no rule that Chimichurri sauce is only meant for meat!
My family and I loved the omelets, and they vanished each of their chimichurri omelets in minutes! You can also make double or triple the amount of sauce and save it in your fridge to use later on tofu, vegetable fajitas, enchiladas and more!
Fresh Chimichurri Sauce:
1 handful cilantro
1 handful mint
1 jalapeño chopped
zest from half a lemon
juice from half a lemon
4 cloves of garlic
coarse salt
pepper
1 tsp red crushed pepper
1/4-1/2 cup extra virgin olive oil
1. In a food processor or blender blend all of the ingredients, except for the olive oil until coarsely chopped. With the blender on low, drizzle in the olive oil until the sauce become a chunky and thick- I do not like too much oil in my sauce that is why I kept the range of sauce from 1/4-1/2 cup, depending on how you like it.
2. Place in a serving bowl.
Southwestern Egg-white Omelet: 
I make omelets on an individual basis, so the recipe below is for one omelet.
3-4 jumbo egg-whites


1/2 white onion – chopped

1/4 green bell pepper – chopped 

1/2 

jalapeño

 – chopped 

pinch of cayenne pepper

pinch of garlic powder

coarse salt to taste

coarse black pepper 

1/8 cup reduced fat Mexican blend shredded cheese

1 tbsp of crumbled queso fresco 

PAM Butter Flavor  

1 small corn tortilla – toasted directly over the stove until slightly charred
1. Set a small nonstick pan over medium heat. Spray with PAM and add the onions, peppers and jalapenos. Saute for about 5-6 minutes until softened and slightly browned. Set aside on a plate.
2. In a small bowl whisk together the eggs, seasonings, and sautéed veggies. Set the same pan over medium-low heat, spray with PAM and add the egg mixture. Cook over medium low heat, pulling in the cooked portion, so the runny portion of eggs can move to the bottom of the pan. Once the bottom is set, in about 4-5 minutes, carefully flip the omelet and cook on the other side for about 1 minute. In the meantime, sprinkle the shredded Mexican cheese on one side, and flip over the omelet, so its in a shape of a taco.
3. Place the charred tortilla on a serving dish and place the taco-shaped omelet over the tortilla. Place about 2 heaping tablespoons of the Chimichurri Sauce over the omelet. Sprinkle with the quesco fresco and serve.
Like Eggs? Check these recipes out!