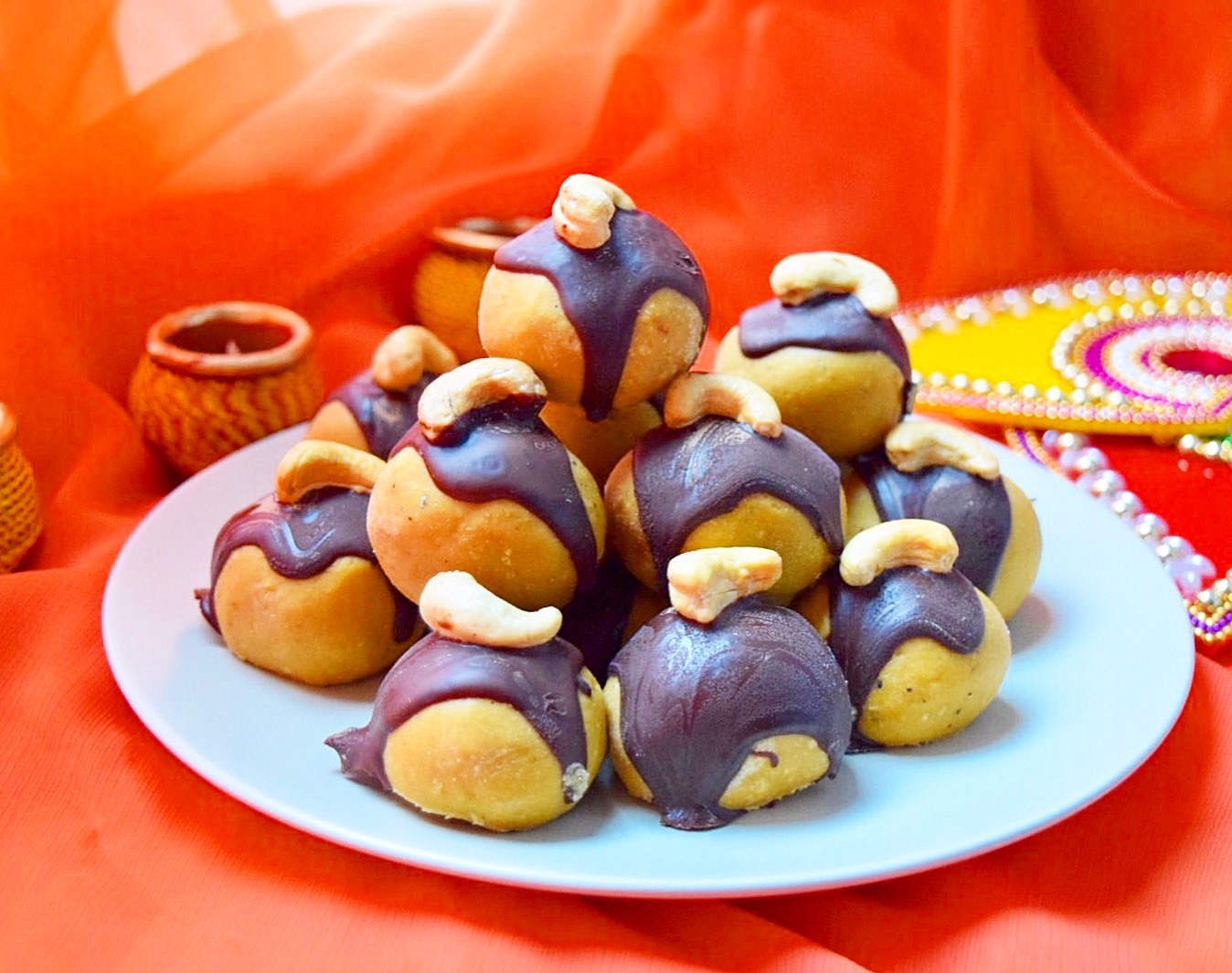 Diwali is right around the corner – literally – it's in 3 days!! If you don't know by now (which is shocking if you've been following my blog), Diwali is the one of the biggest celebrations and holidays for Indian people. It literally translates to 'festival of lights.' It is a celebration of good over evil and is celebrated as our New Year. During this time, all of India celebrates by making delicious vegetarian food, sweets, lighting their homes with deepas (candles), and doing TONS of fireworks. The streets are lit up to the nines and everyone gets decked out in beautiful Indian clothing. We don't celebrate with such grandeur in American unfortunately, but we do the best that we can! I generally use this time to make new eggless – and many a times vegan – sweets and teach all my non-Indian friends that cultural ways! This time around I remade one of my favorite Indian sweets with a slightly Americanized touch and completely vegan! Besan Ladoos (or as we Kannadigas pronounce it Besan Oondis) are chickpea flour based rounds, made with cardamom, ghee (clarified butter), and jaggery. I recreated my Chocolate Besan Truffles with Laxmi chickpea flour, cardamom, vegan butter, and my favorite – chocolate, yum! The Laxmi besan flour is extra fine, easy to work with, and makes for delicious truffles! Check out my recipe below – takes no more than 30 minutes!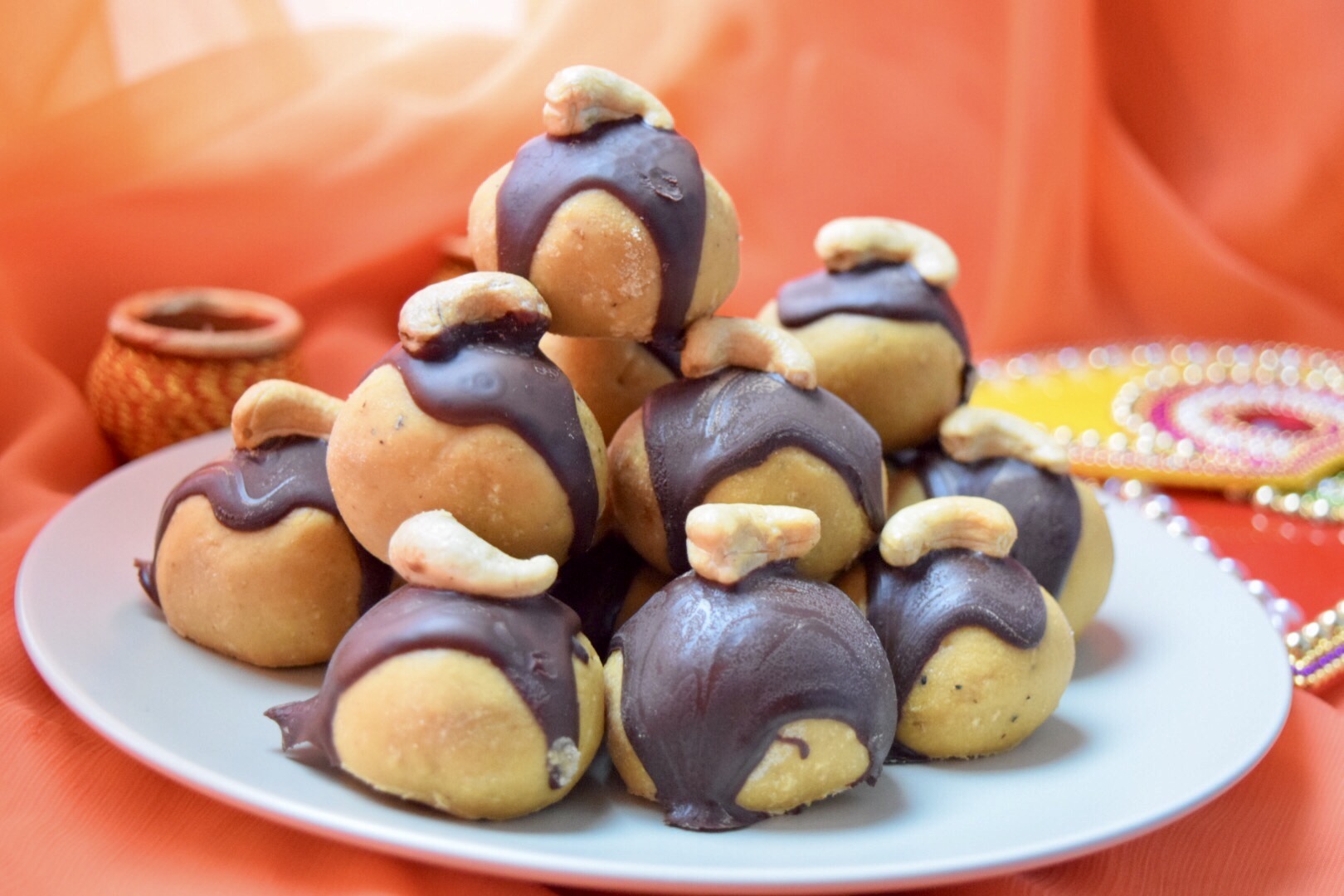 Chocolate Besan Truffles:
2 cups Laxmi Besan Flour – sifted
1 cup vegan margarine – melted
1 cup powdered sugar – sifted
1/2 tsp freshly ground cardamom
8 oz 70%+ cacao dark chocolate bar
unsalted raw cashews – garnish
1. In a large non-stick pan, add in the sifted besan flour and set over low flame. You essentially want to dry-roast the flour, so you need to constantly mix it and keep an eye on it. The flour should roast over the low flame until fragrant and slightly golden browned. It will have a nutty fragrance. I roasted my chickpea flour for about 10 minutes.
2. While the flour is dry-roasting, melt the butter in a small saucepan. Once melted, keep to the side.
3. After the besan flour has roasted, remove from the heat and mix in the melted butter. Dough will chunky – use a wooden spoon or a spatula to mix together, making sure to incorporate the butter and flour together. Add in the sifted powdered sugar, and continue mixing. If your mixture still seems to crumbly – test by using your fingers to see if the dough sticks together when press – then add in a bit more melted butter. Now add the ground cardamom. Mix together.
4. Once the mixture is well incorporated and room temperature to touch, using your palm, take about 1 1/2 tbsp of dough and roll into round truffles. place on a parchment lined sheet/plate. Continue until the dough is finished – there should be about 20-25 truffles.
5. Melt chocolate over a double boiler or in the microwave (I'm ghetto, so I used a microwave). Make sure to have your cashews on hand now. Once chocolate is smooth and melted, drizzle about a 1 tsp on each besan truffle, and while the chocolate is still soft, top each with a cashew nut. Set aside to cool and set.
Enjoy!!!