If you're a foodie or a cupcake connoisseur, then you've definitely heard of Sprinkles Cupcakes. If you haven't then you're a poser- aka you're not a true foodie or cupcake lover. Why do I say this? Sprinkles Cupcakes is considered the first (solely) cupcake bakery in the world and is originated in California. I had never tried them before until last week. They recently opened up a shop in NYC (Midtown East to be exact). Every Thursday we try to uphold a tradition of 'Cupcake Thursday' at work. It almost sounds like we're trying to give ourselves cardiac arrest, but it's ok, since we're all fairly young and fit haha. Last week when Cupcake Thursday rolled around, I remembered there was a Sprinkles not too far from our office. I jetted over and picked up a few.
A little bit of my experience at Sprinkles. So for starters the shop is very tiny- only  few stools and room inside for about a line of 10 people. They change up the cupcake flavors daily, so you can only choose from the flavors they are displaying that day. There were about 8-9 varieties. I was a little confused and had to pick up 4 cupcakes for me and my coworkers. I decided to go with Dark Chocolate with Sprinkles, Strawberry, Chai Latte and Lemon Coconut. I figured that was a nice variety of the offerings that day. As you probably already know- Sprinkles Cupcakes are adorned simply with frosting and circular motifs in the center. I think its cute. But to be honest for the price you pay, its a little too simple for me. A box of 4 cupcakes is approximately $14 + tax. I know they use high quality ingredients and it definitely makes a difference in the taste, but I think still think it is a bit pricey.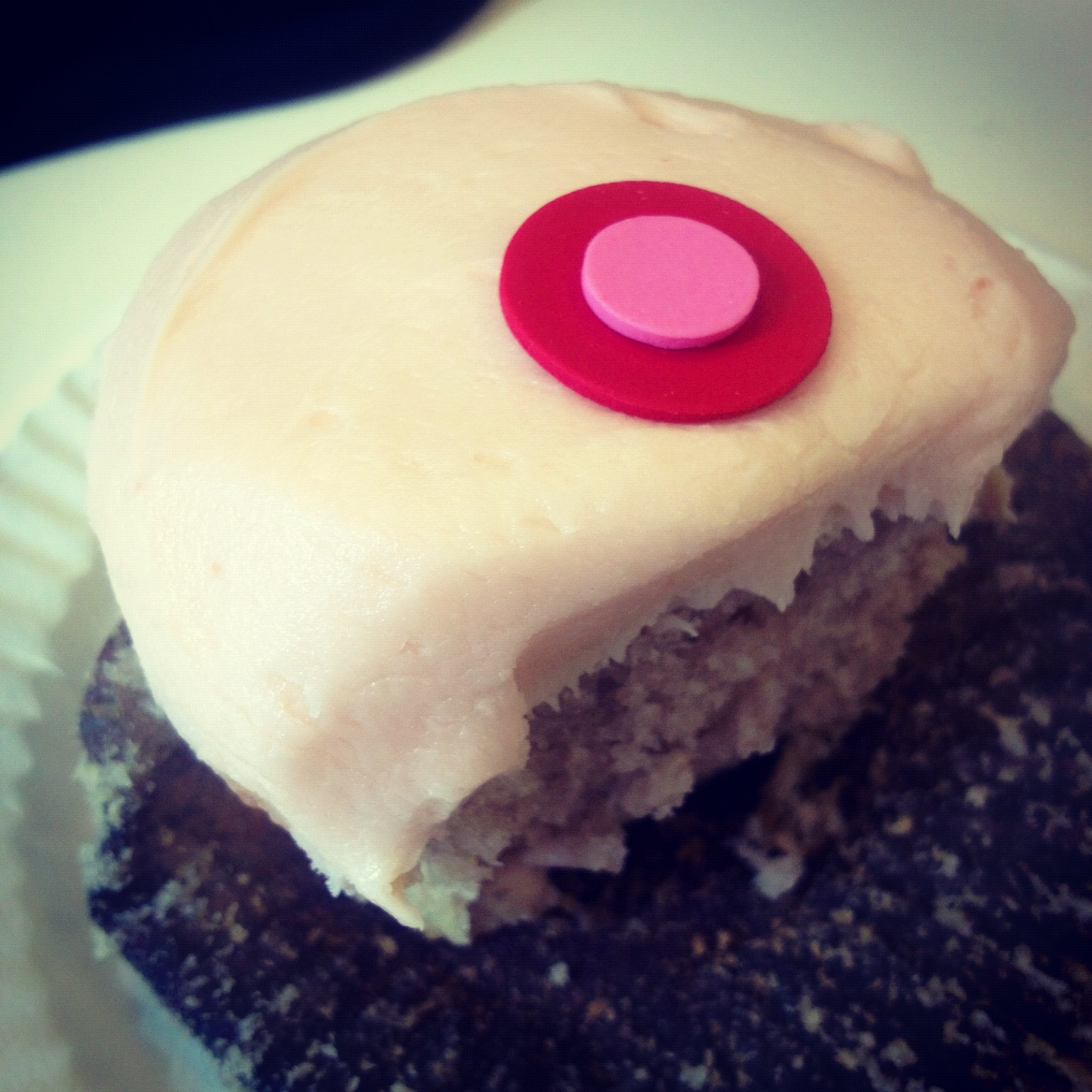 I went with the Strawberry Cupcake. So here are some Quick Rates on the cupcake (1 being the least most favorable- 10 besting the best):
Style/Presentation: 7
Quality: 9
Taste: 8
Frosting: 8
The presentation was the iconic and simple frosting with circular motifs- it was cute but a bit boring for me. If I'm eating a strawberry cupcake, I like to see a bit of the ingredients as a garnish, i.e., a slice of glazed/crystallized strawberry or fondant strawberry, etc.
As for the quality- it was very good. You can tell they use natural ingredients and either buttermilk/milk in the batter. The cake was very moist.
The taste was yummy, however I found it a little artificial. I think it could've use some fresh strawberries either in the frosting, batter of the cake, or in the middle to give the feeling of fresh taste and berry action. It was strawberry enough for me.
The frosting was good- not overly sweet, and not piled high on the cupcake. I thought the cupcake had a great balance between the cake and the frosting. I really don't think cupcakes need mounds and mounds of frosting.. unless you're asking for Type II Diabetes (no, but really).
All in all, they were good cupcakes. Do I think they're the best in the entire world? No. But I will go back. I need to go back and try a chocolatey one. I do recommend trying it at least once- definitely get a sense of how the west coast makes cupcakes compared to the east coast ;).
Want to check out my Cupcakes?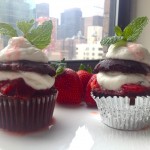 Chocolate-Strawberry Shortcake Cupcakes