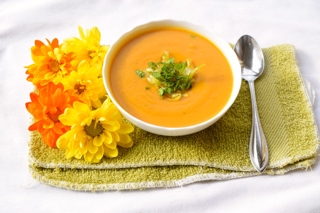 I started my new job last week and found out that there are a ton of perks. One is being able to sign up for a bi-weekly organic vegetable delivery in the summer-fall months, and a percentage of the proceeds goes to charity. I actually don't know all the details, but what I do know is that I can't sign up right now, because it's almost November. My boss was signed up for it though, and she received two large bags full of fresh and organic vegetables. Knowing that I cook, she graciously gave me a bag full of vegetables. I was obviously stoked and couldn't wait to cook.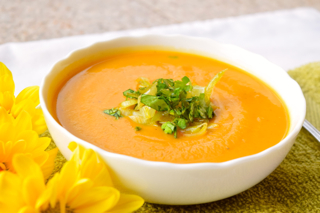 In the bag was a full stalk of brussel sprouts, one large leek, 1 enormous green apple, 2 white beets, 1 white radish, and 3 super large sweet potatoes. This weekend, I decided to festive for the autumn season and make a Sweet Potato Bisque. I actually have never made a soup or bisque with potato, but I've tried a ton and know that I love it. I thought of making it on a whim, so I just used a bunch of ingredients that were already in my pantry.
The sweet potatoes and leek were beautiful, and I just wanted to highlight their flavors.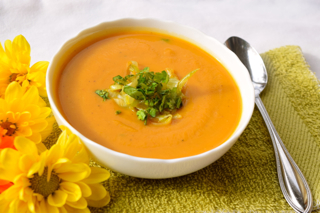 Sweet Potato Bisque:
 2-3 large sweet potatoes – washed, peeled, cubed
1 leek – washed, thinly sliced – reserve about 1/4 cup of this on the side
1 medium white onion – diced
1 small carrot – washed, peeled and diced
3 cloves of garlic – minced
1 inch piece fresh ginger – minced
3-4 dried cayenne chilies
a little less than 1 tbsp of garam masala
1 tsp fresh nutmeg – grated
1/8 tsp ground cinnamon
1/4 tsp of red chili powder
about 1 tbsp jaggery or sugar in the raw
1/2 fresh lemon
about 1/4 cup of fat free half & half or almond milk (if vegan)
handful of fresh cilantro – finely chopped
3 cups vegetable broth – low sodium
1 clove
1 tbsp unsalted butter
couple tbsp vegetable oil
PAM Cooking Spray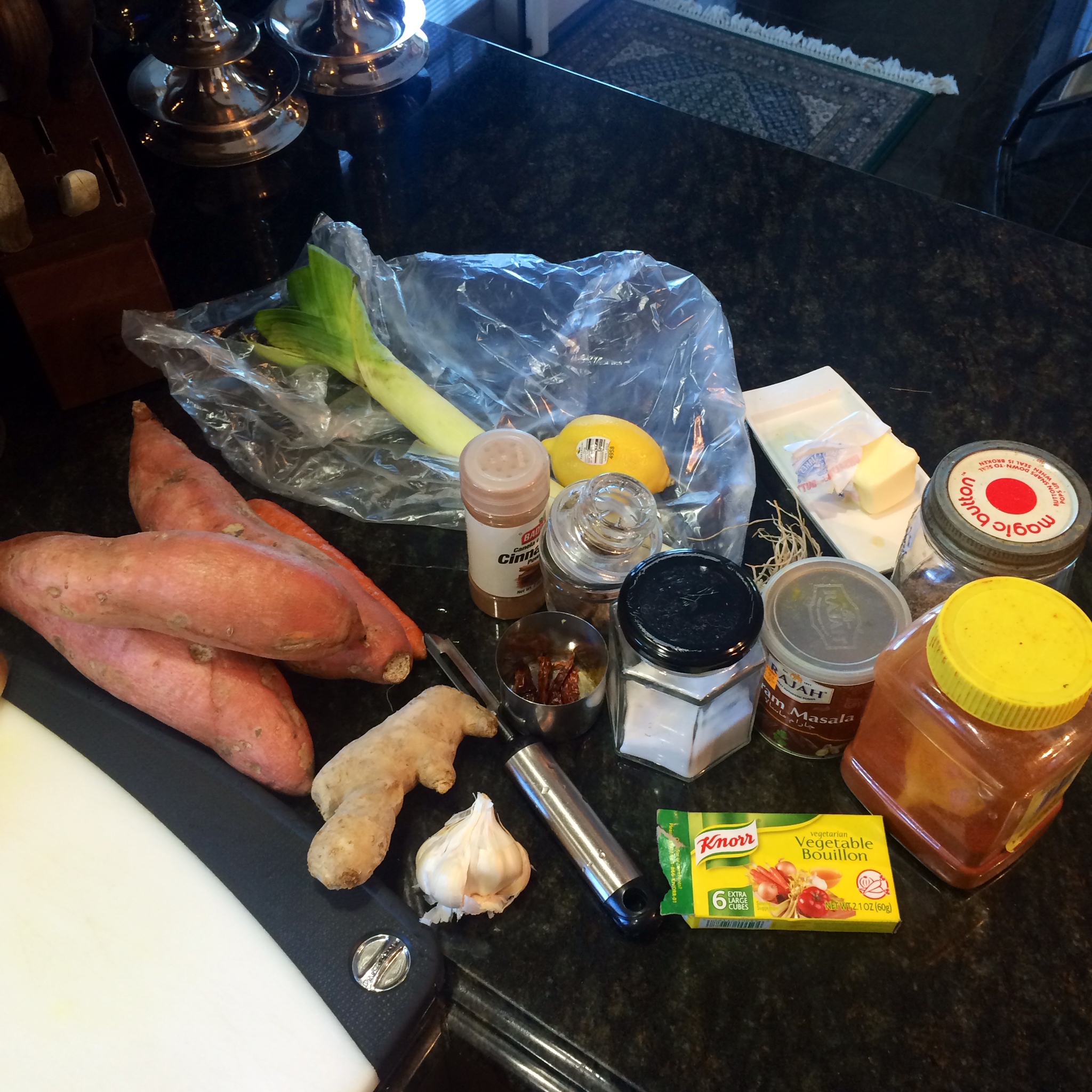 1. In a heavy-bottom pot, add 3 cups of vegetable stock/broth and the 1 clove. Place on low heat and slowly simmer.
2. Meanwhile, in a large heavy pot, add the oil and butter. Add the onions, leeks, carrots, chilies, garlic, and ginger over medium flame and saute for about 2 minutes. Then sprinkle in the seasonings – garam masala, nutmeg, cinnamon, and red chili powder. At this point, I would also add in salt and pepper – I salted as I went. Saute for about 5 more minutes until onions and leeks are tender.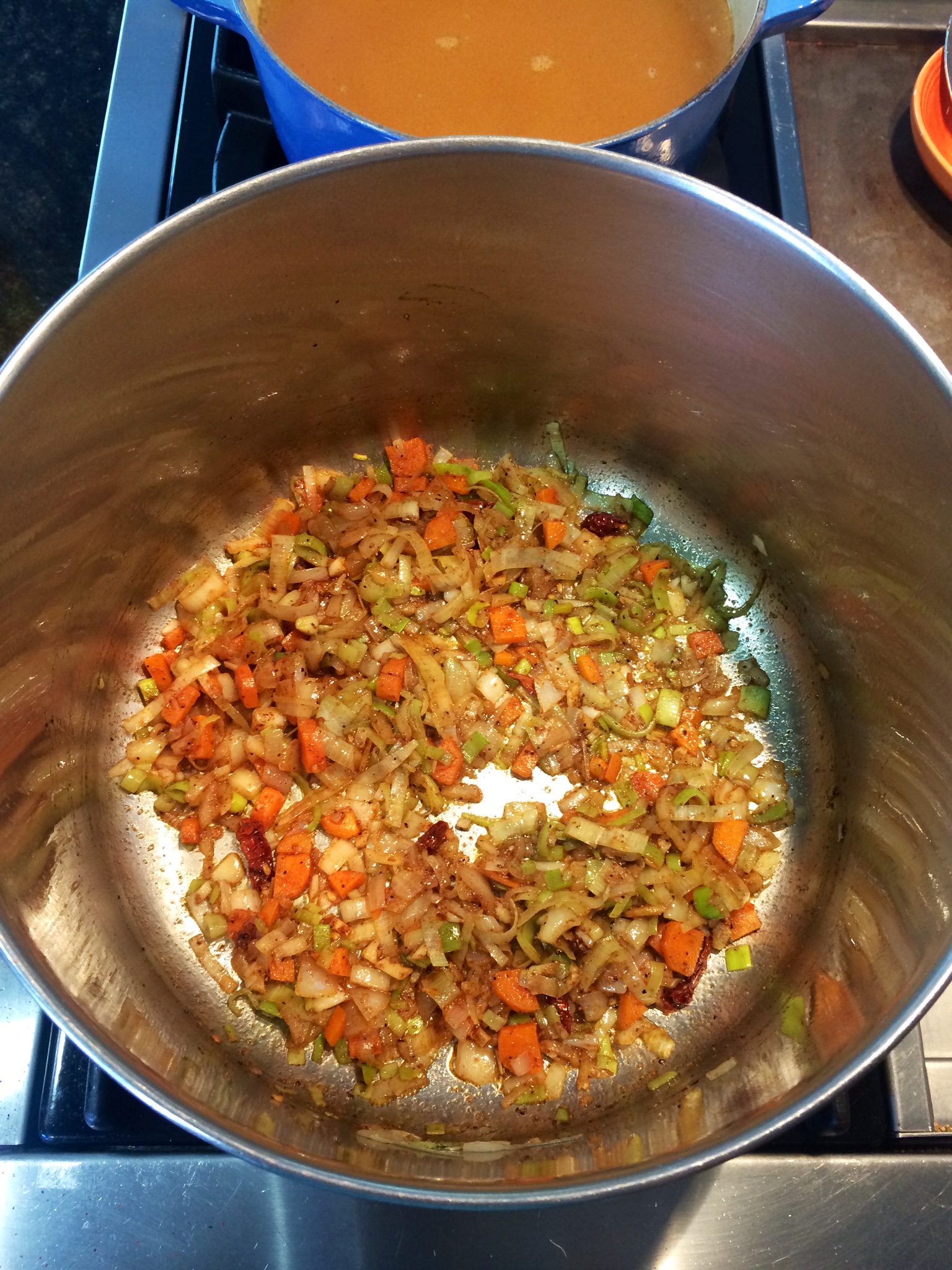 Add in the cubed sweet potato and continue sauteing.
3. After a few minutes, add in the jaggery/sugar in the raw and some more salt. At this point, I would taste the back of your spoon. It should taste spicy, and balanced with a little sweetness. Add more salt if necessary.
4. Once the potatoes are slightly softer (they will still be very much hard), start ladling in the warm broth. Add in enough broth until all the veggies are covered (pretty much all of the broth). Make sure the flame is on about medium. You want to bring the mixture to a boil. Boil for about 10 minutes, until all the veggies and potato are completely cooked through. Spritz in a bit of lemon juice from the 1/2 lemon (making sure not to get any seeds in). Add in about 2 tbsp of the chopped cilantro.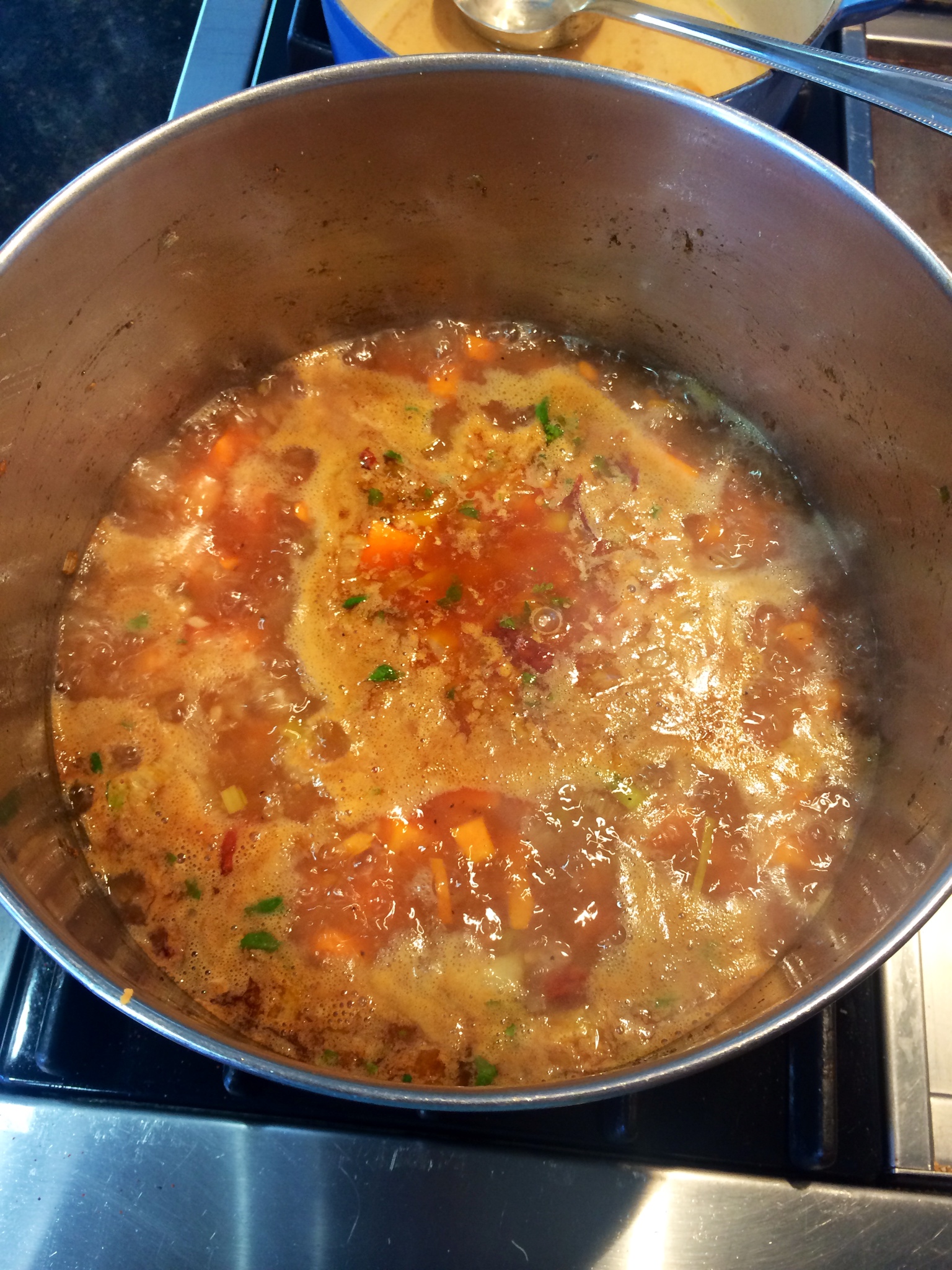 5. Lower the flame to medium-low and using a hand blender, blend the soup until halfway smooth. At this point add in the half & half/almond milk, and continue blending until completely smooth. Remove blender, and continue cooking on low.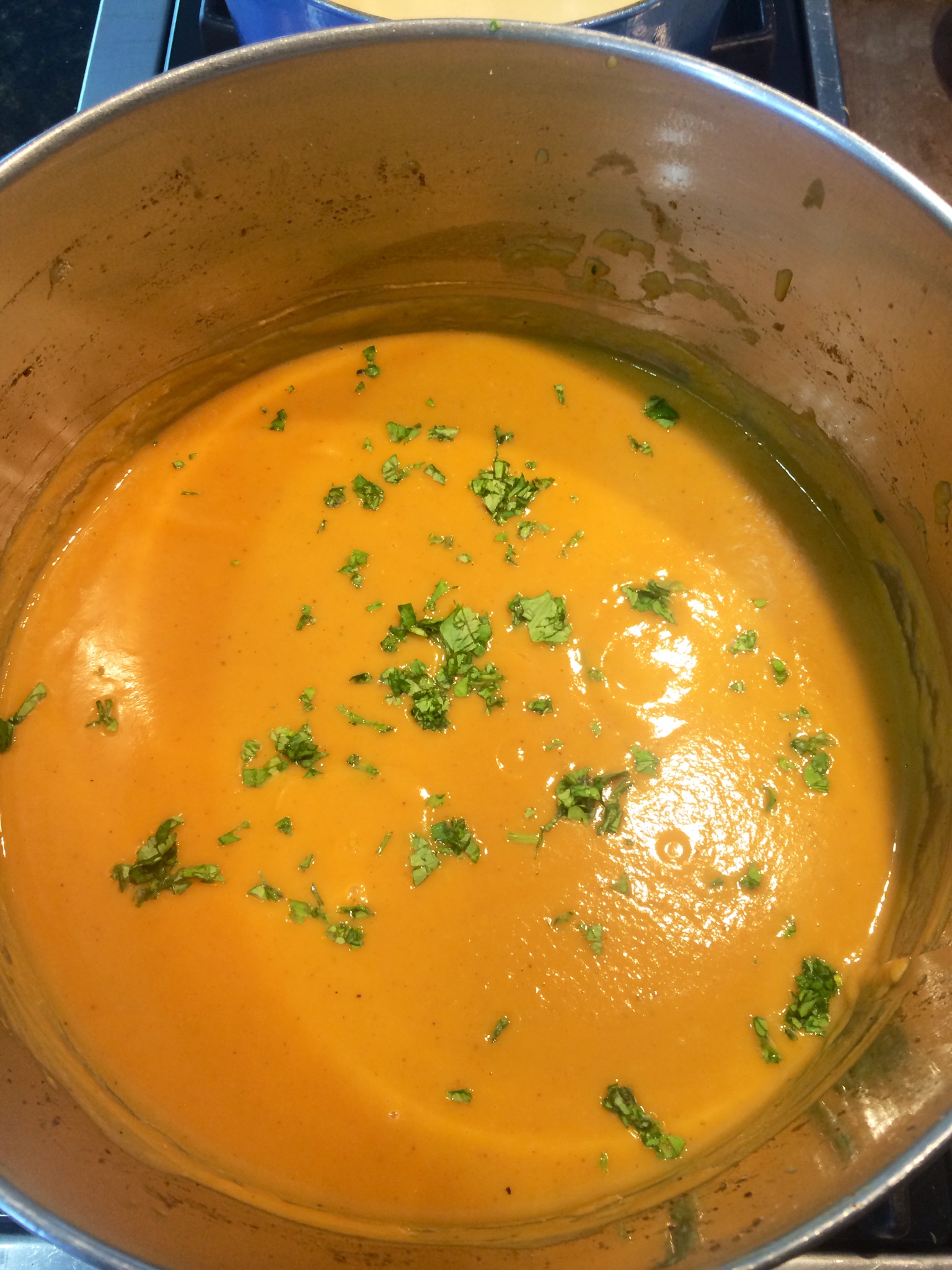 Taste the soup, and add in more sugar/salt if necessary. I added in a bit more jaggery at this point. Remove from flame, and serve warm garnished with cilantro and crispy leeks.
Crispy Leeks: 
Reserved 1/4 cup of chopped leeks
sprinkle salt
sprinkle of fresh nutmeg
PAM/vegetable oil
1. After you've ladled in all the broth from the pot, add in oil/PAM and place over medium flame. Add in the chopped leeks and sprinkle with salt and nutmeg. Cook for about 5-8 minutes until slightly golden brown and crispy.
2. Remove and place on a paper towel to drain a bit of the oil and let cool.
3. Garnish the soup with this before serving.