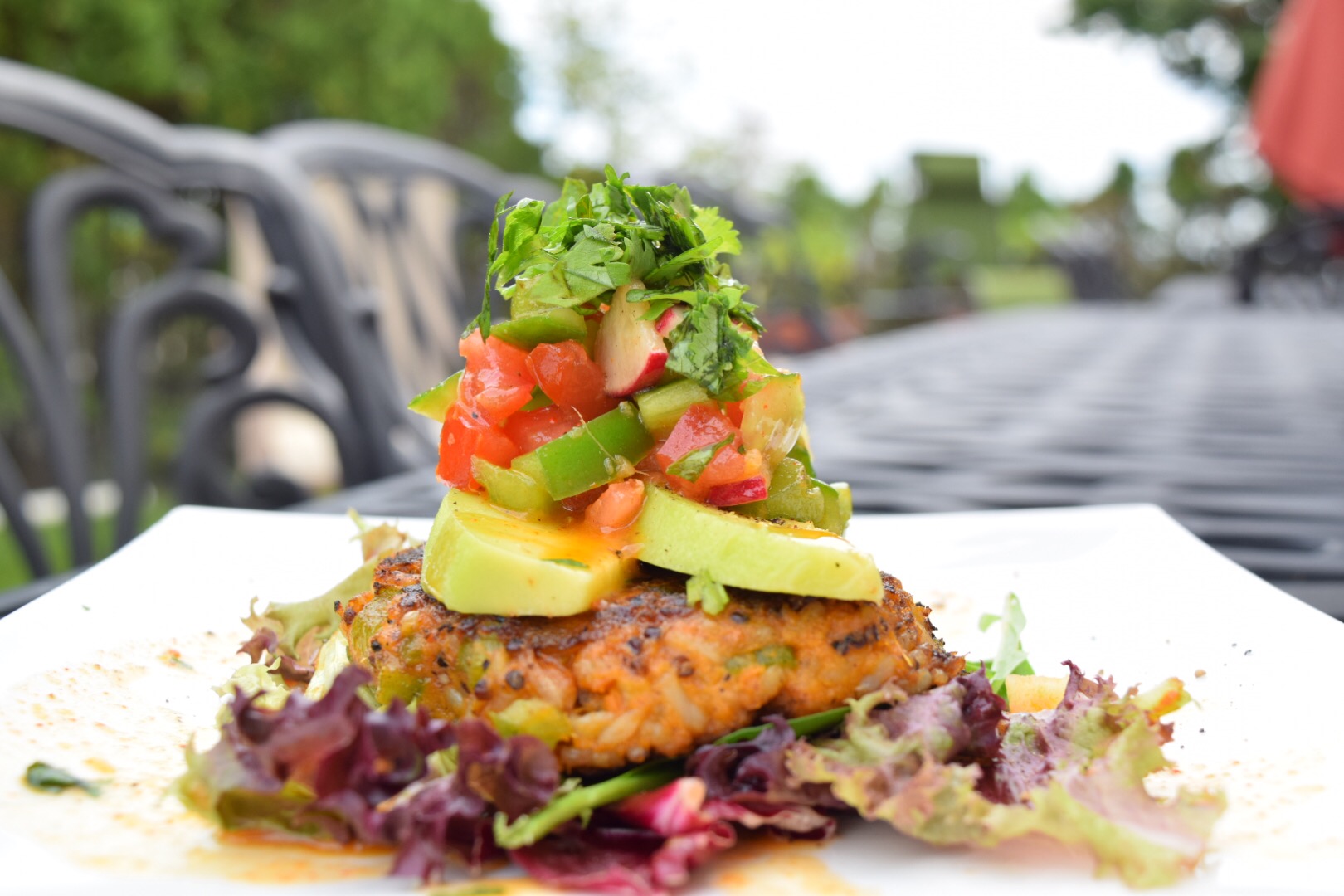 Do you ever just crave a good veggie burger? Although I love prepared veggie burgers in the fridge and freezer aisle, they tend to be very high in sodium. I wanted something hearty, healthy, and bread-free. That is how my sweet potato-quinoa burger was born.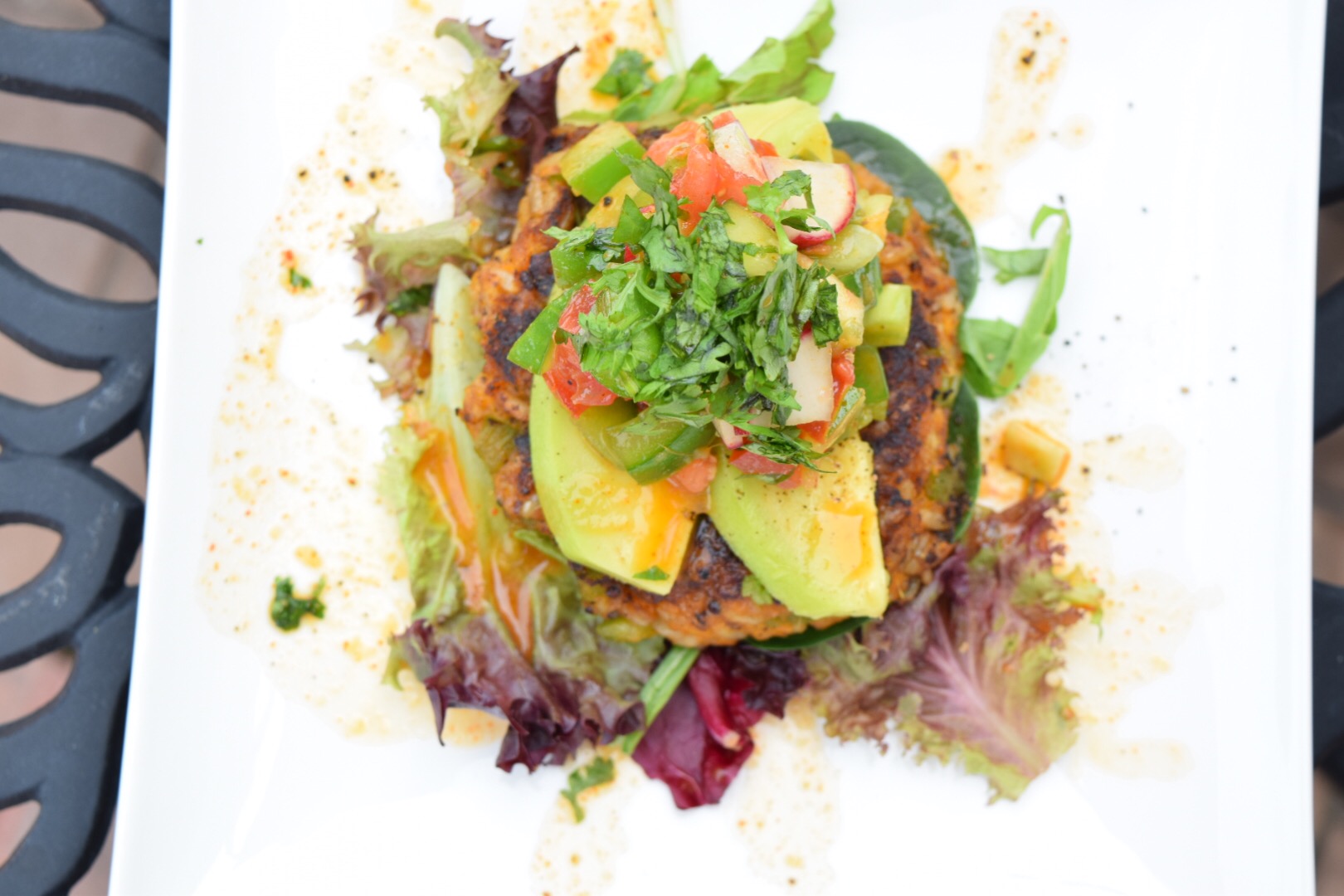 High in flavor, protein, and deliciousness, low in sodium, fat, and everything else that's bad! Best of all these are vegan and dairy-free – you won't miss the cheese one bit!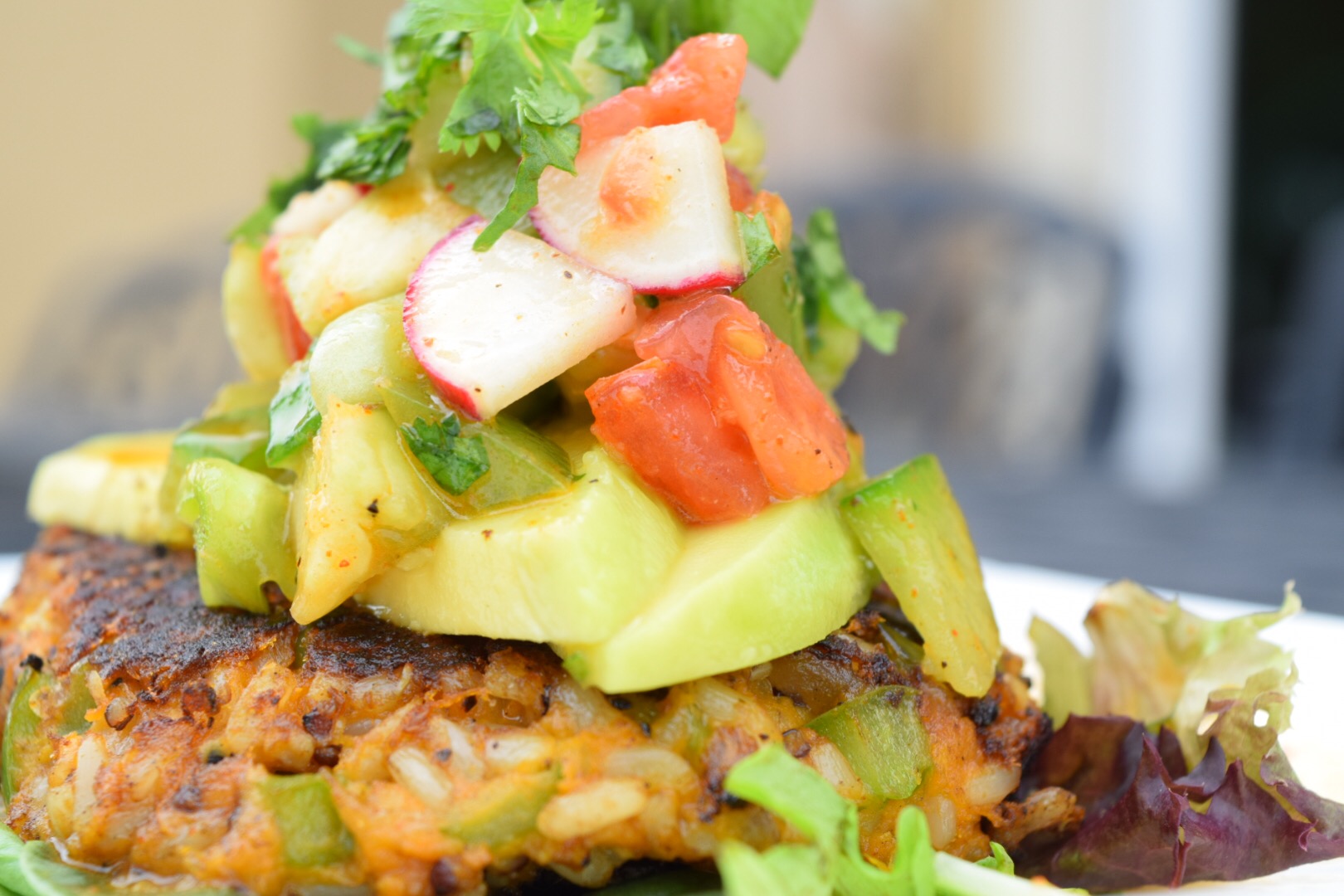 Sweet Potato Quinoa Burgers:
2 medium sweet potatoes – boiled until fork tender, cooled, peeled, cubed
1/2 brown rice-Quinoa mix cooked – I used this
1/2 white onion – chopped
1 jalapeno – chopped
1 clove garlic – minced
1/4 green pepper – chopped
1 tsp chili powder
1 inch piece fresh ginger – grated
1 tsp cumin powder
1 heaping tsp garam masala
salt
pepper
1-2 tsp lemon juice
Indian Relish & Dressing:
1/4 cup – chopped beefsteak tomatoes
1-2 red radishes – thinly sliced then quartered
1/2 English cucumber – chopped
1 handful cilantro – chopped
1 tsp cumin powder
1 tsp chili powder
a little less than 1 tbsp fresh lemon juice
1 tsp honey
salt
black pepper
1 tbsp chopped cilantro (from the handful you chopped above)
olive oil – about 1/8 cup to make dressing
Assembly ingredients:
Sliced ripe avocado – about 1 Haas Avocado
Fresh Greens – any mix you like, I prefer a mix with arugula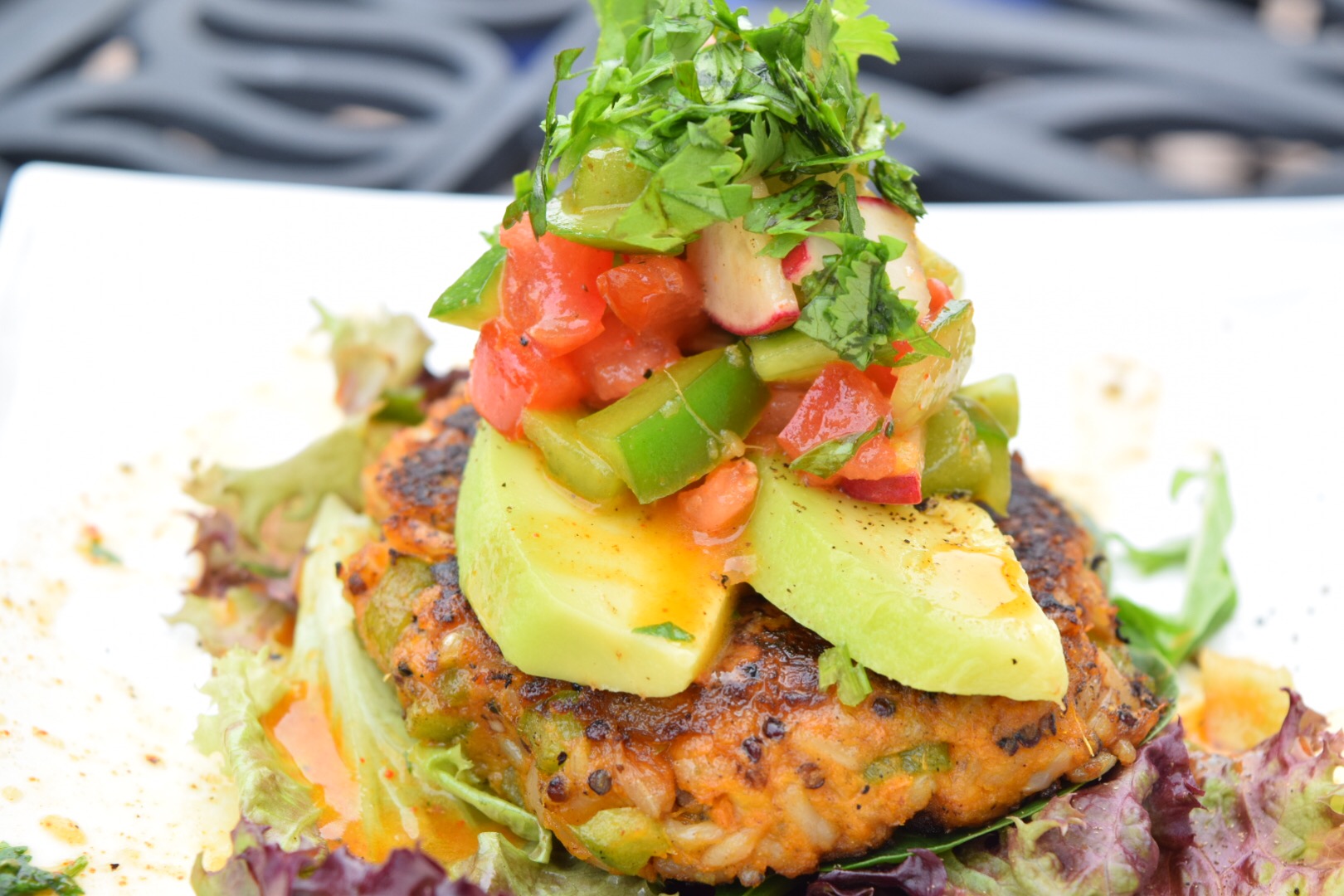 1. For the burgers: Saute the onions, jalapenos, and garlic in a small non-stick skillet for about 5-7 minutes, until very slight golden color. Should be cooked through, but not mushy or burnt. Remove and let cool. In a large bowl, add together all the ingredients for the burgers – mashing together the potato with all the veggies and spices. It should be mushy and able to form thick patties. With this mix, you can either make 4 large burgers, or 6-8 small ones. I recommend making them small, as it's easier to cook. Place the burgers on a place to get ready to cook. In the same non-stick you cooked the onion mixture in, spray with PAM/oil and set over medium-low heat. Place one burger at a time and cook for about 5 minutes on each side – until browned and slightly crisped on each side. Remove and repeat with remaining burger.
2. For the relish: Place the tomatoes, cucumbers, radishes, and half of the chopped cilantro in a bowl. Toss together. In another large bowl, add in the spices, honey, salt, pepper, 1 tbsp cilantro, and lemon juice and whisk together until its very thick. While whisking, drizzle in the olive oil, until it turns into a thick dressing. Add the chopped veggies to this dressing and toss together. The moisture from the veggies will loosen up the dressing and coat throughout.
3. Assembly: On a serving dish, please a bed of fresh greens, top with one burger, then 2-3 slices of avocado, pile high with relish and top with more cilantro. Drizzle with some dressing from the relish. Serve and enjoy!