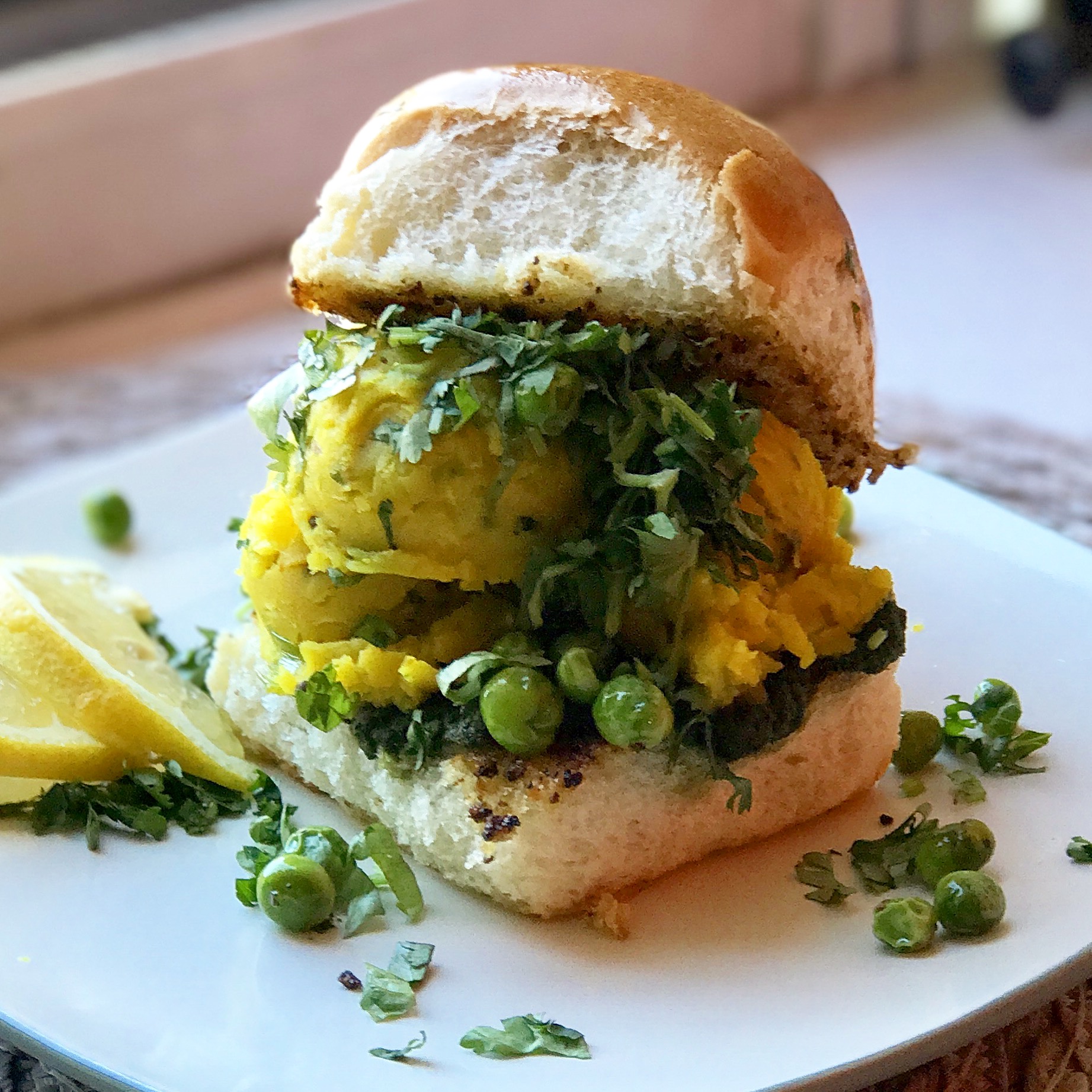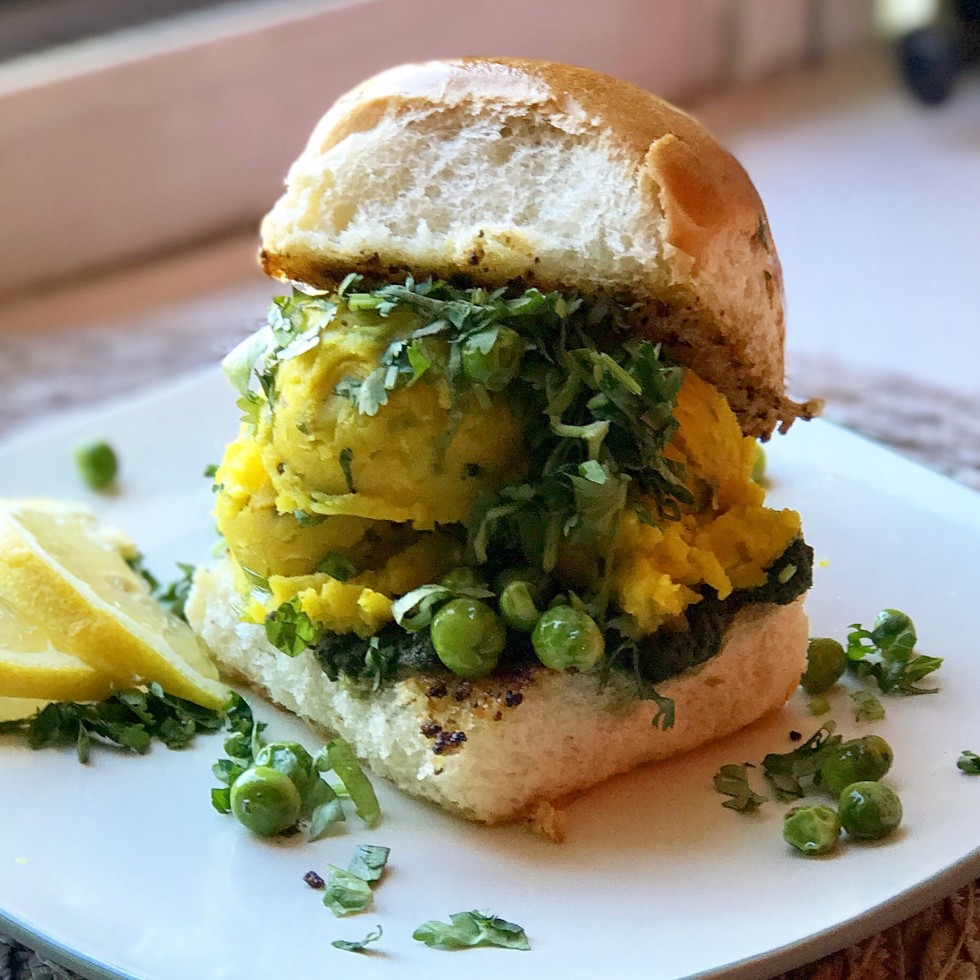 If you go to Mumbai there are tons of street vendors selling all kinds of vegetarian deliciousness. I'm a huge fan of street feed – even though people advise me not to eat it and all that, but ya only live once, am I right? One street food classic is Vada Pav – spicy potato and pea filling enrobed in a chickpea flour based batter and fried until crisp, then smashed into a buttery Pav (bun) and topped with tamarind and green chutneys, coriander and chilies. Yummmm! I decided to recreate this but in a simple and healthier fashion. Essentially, I created an inside out vada pav, without the frying, but with all the deliciousness!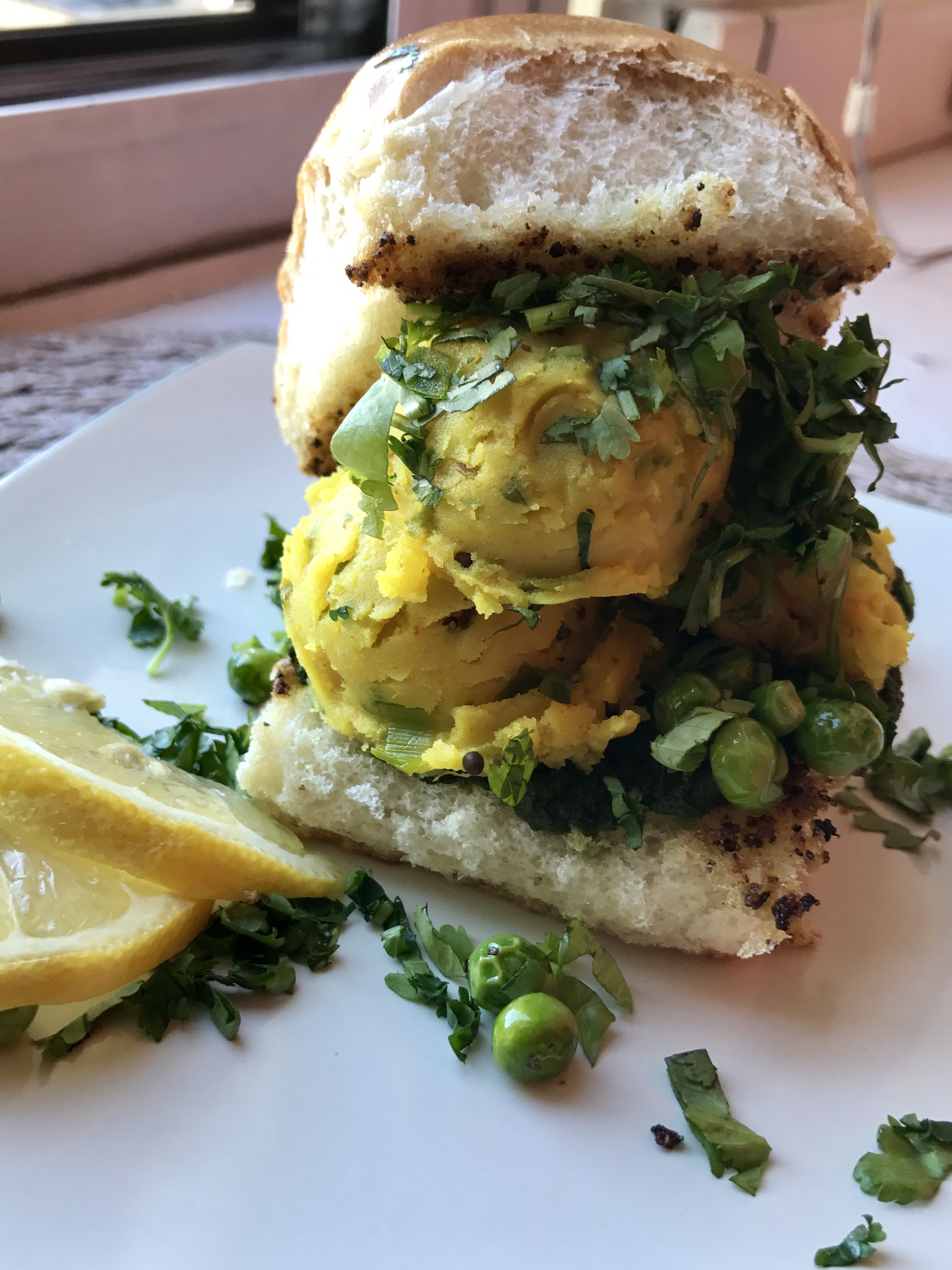 Spicy Potato Filling:
2 white potatoes – boiled, peeled, and diced small
5-6 curry leaves
1 tsp black mustard seeds
pinch asafetida
1 jalapeno/1 serrano – minced
2 scallion stalks – chopped down to just when the white part starts
1 handful cilantro – washed and finely chopped
1 tsp turmeric
1 tsp coriander seeds
1 tsp cumin seeds
1 tsp black peppercorns
about 1/8-1/4 cup coconut milk
salt
1 tsp fresh lemon juice
vegetable oil
Blistered Peas:
1/4 cup frozen peas – thawed
salt
black pepper
fresh lemon juice
PAM
vegetable oil
Assembly Ingredients:
4 pavs or buns or Hawaiian Sweet Rolls
Green Chutney
Coriander
lemon wedges
1. In a large non-stick skillet, pour in oil to coat the bottom, and place over high flame. Add in the black mustard seeds and allow to cook – they will start popping in 15-30 seconds. Then add in curry leaves and stand back, as these will pop and splatter. Then add in the hing, serrano, and scallions. Saute for 2 minutes. While its sautéing, crush together the black peppercorns, coriander and cumin seeds in a mortar and pestle.
2. Add the potato, turmeric and crushed spice blend to the saute mixture. Continue sautéing, making sure to break up and spread the potato evenly int the spice mixture. After about 5 minutes, start using a masher to mash up the potato mixture – it should be soft. Slowly start adding in – 1 tbsp at a time – coconut milk while mashing. Mixture should be smooth – not as smooth as mashed potatoes – but should be incorporated together with some texture. Once mixture is all incorporate, yellow in color, and smooth with some texture, add in 2-3 tbsp of the fresh chopped coriander and squeeze of lemon juice. Lightly mix together and remove from the pan.
3. Clean out the pan and set over medium-high flame. Spray with PAM and add in 1 tsp of vegetable oil. Once the oil is hot, add in the peas and begin sautéing. Keep on medium-high flame – you want the peas to start blistering. After about 5 minutes, squeeze in the lemon juice, add salt and pepper. Peas should be cooked through, but not mushy – they should have a bite. Remove. Clean out pan.
4. Spray pan with PAM and set over medium flame. Slice pavs in half and brush with oil/butter. Toast until golden brown.
5. Assembly: Spread a generous amount of green chutney on one side of the pav. Using a mini ice scream scooper, scoop 2 heaps of the potato mixture on the pav, top with 1 tbsp blistered peas, 1 tsp of coriander. Serve with a lemon wedge.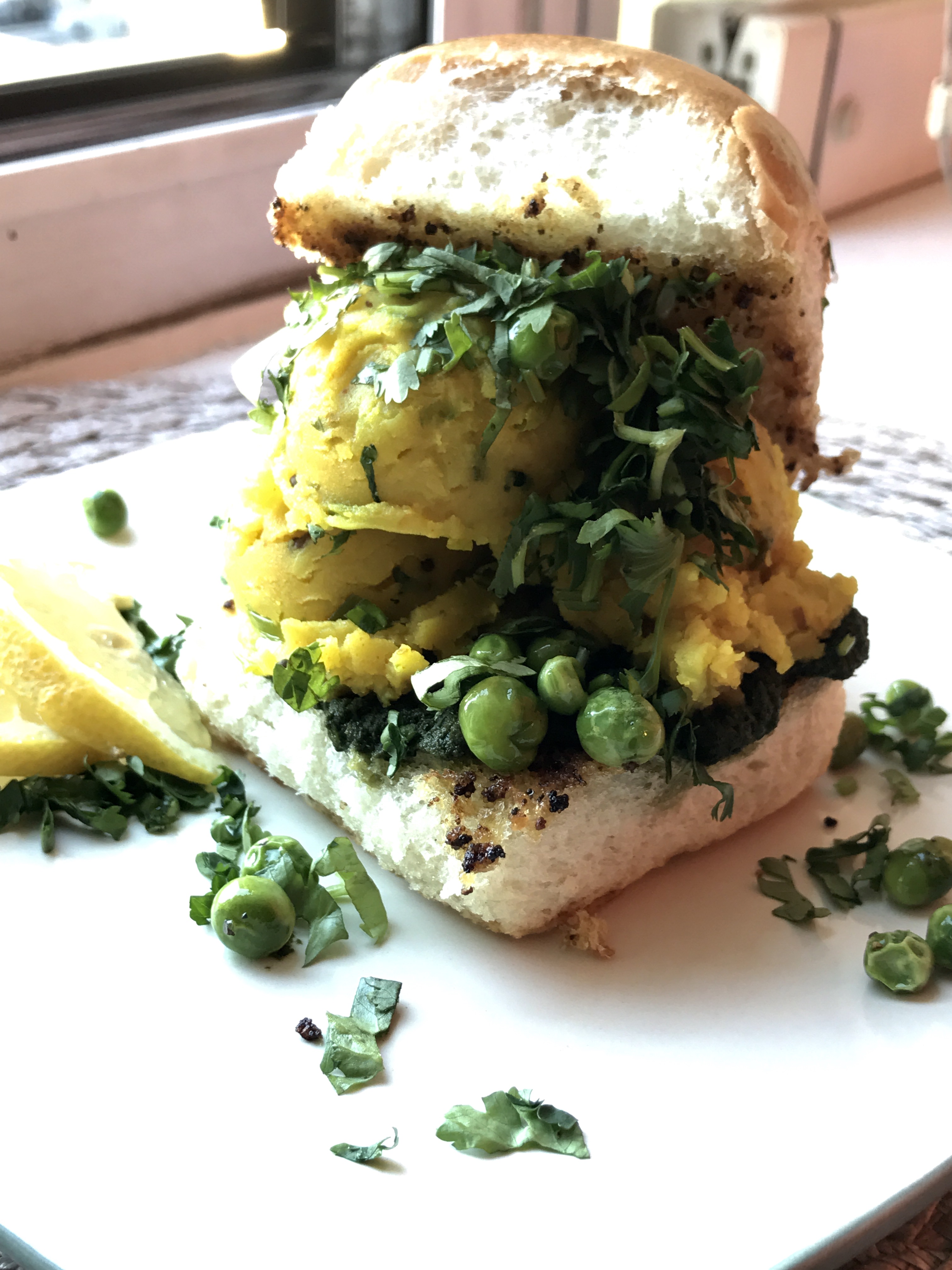 YUMMM