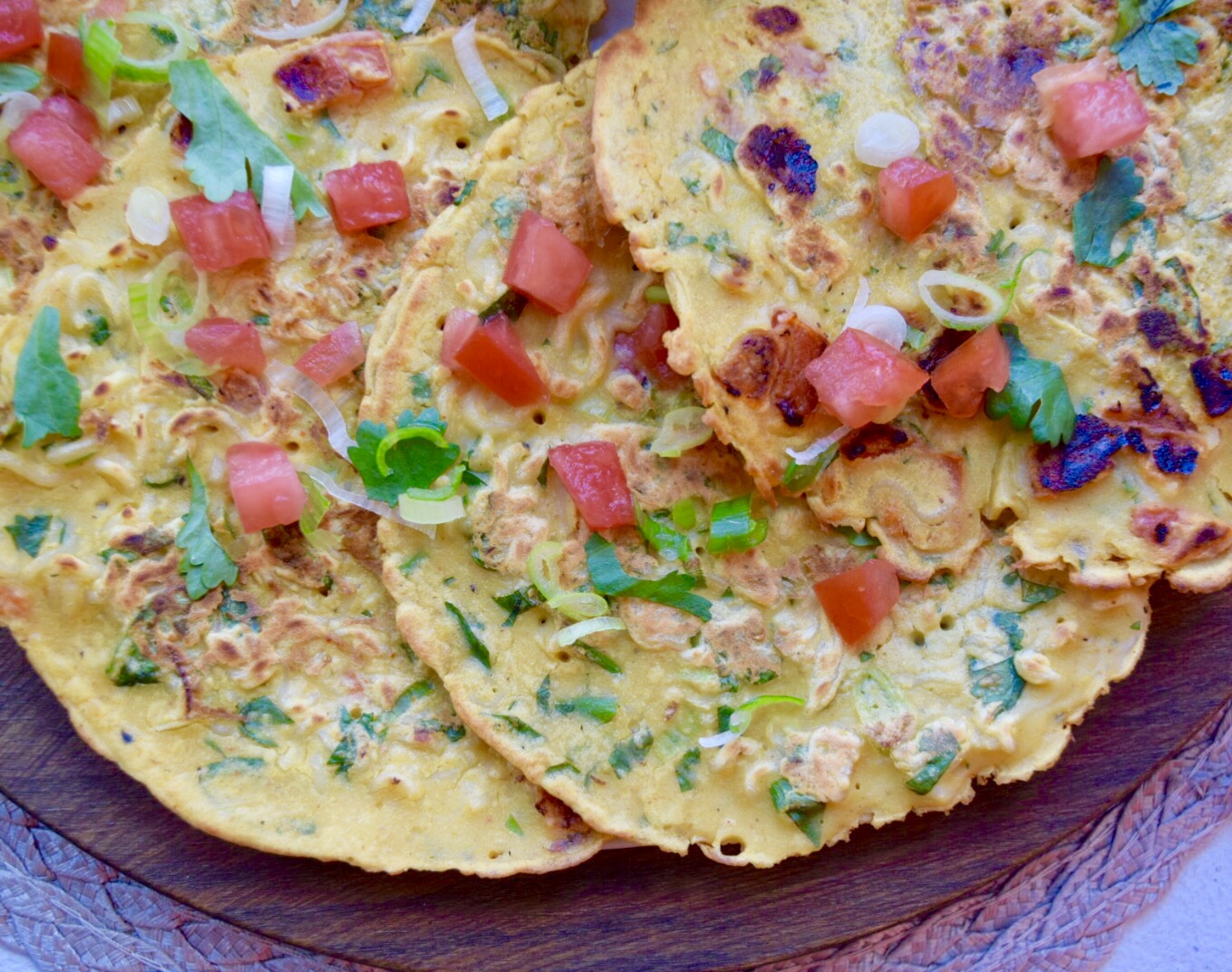 Do you remember back to your college days when all you had was a microwave and Maggi Noodle packets? Oh wait, you don't?! Well that was me. Just as my freshman year roomie (and now forced bff) would say about my Maggi Noodle days. We had one crappy microwave, but is was just good enough to warm up my noodles in water. Mmmmm. Now that I'm 7 years out of college (YES, GOD I'M OLD) and have a MUCH more sophisticated palate (Food Network Winning CON, hello).. I've found creative ways to transform my college favorite into something healthy, satisfying and delicious! Of course this is inspired by my #1 chef – Momma Naik – Maggi Noodle pancakes were something she made when my sisters and I would come home from school or for lunch on a weekend. Packed with besan flour, veggies, and Maggi noodles, these pancakes provide a ton of protein and are super filling! Check out the recipe here.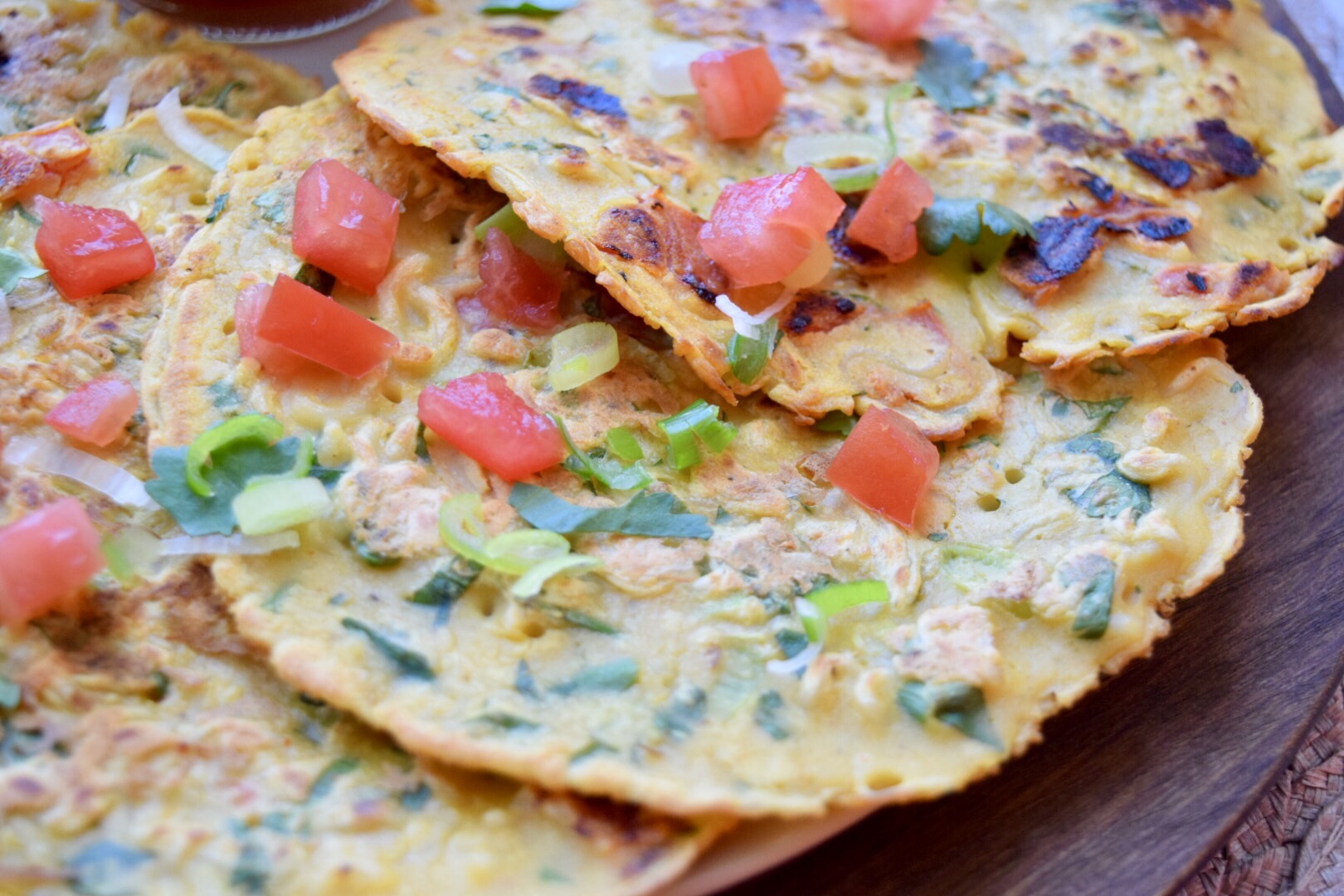 Maggi Noodle Pancakes:
1 Maggi Noodle Packet – noodles broken into small pieces, spice packet reserved to the side
3/4 cup water
1 cup Laxmi Besan Flour (chickpea flour)
1 cup room temperature water
1/4 cup beefsteak tomatoes – diced small
2 tbsp scallions – sliced thin in rounds
1/4 cup cilantro – finely chopped
1/4 tsp chili powder
1/4 tsp ground black pepper
1/4 tsp salt
cooking spray
1. Bring 3/4 cup water to a boil. Add in broken Maggi and cook until Maggi is tender. Drain and set aside.
2. In a large bowl add in besan flour and 1 cup water. Whisk together until smooth. Add in tomato, scallion, 1/2 of the chopped cilantro, chili powder, salt, pepper, Maggi Noodle spicy packet and cooked Maggi Noodles. Mix together until incorporated. Taste a bit of the batter to make sure there's enough seasoning and salt. Adjust as necessary.
3. Spray a small nonstick pan with cooking spray and place a nonstick skillet over medium-high flame. Once the pan is hot, pour in 1/2 cup worth of batter into the pan. Spread evenly, creating a round pancake shape. Cook on medium-high flame on each side for about 2-3 minutes – until you see the sides crisping and browning. Flip. Cook another 2-3 minutes. Remove and allow to cool for one minute before serving. Top with reserved cilantro, and some more diced tomatoes & scallions (optional). I served mine with Maggi Tomato Ketchup!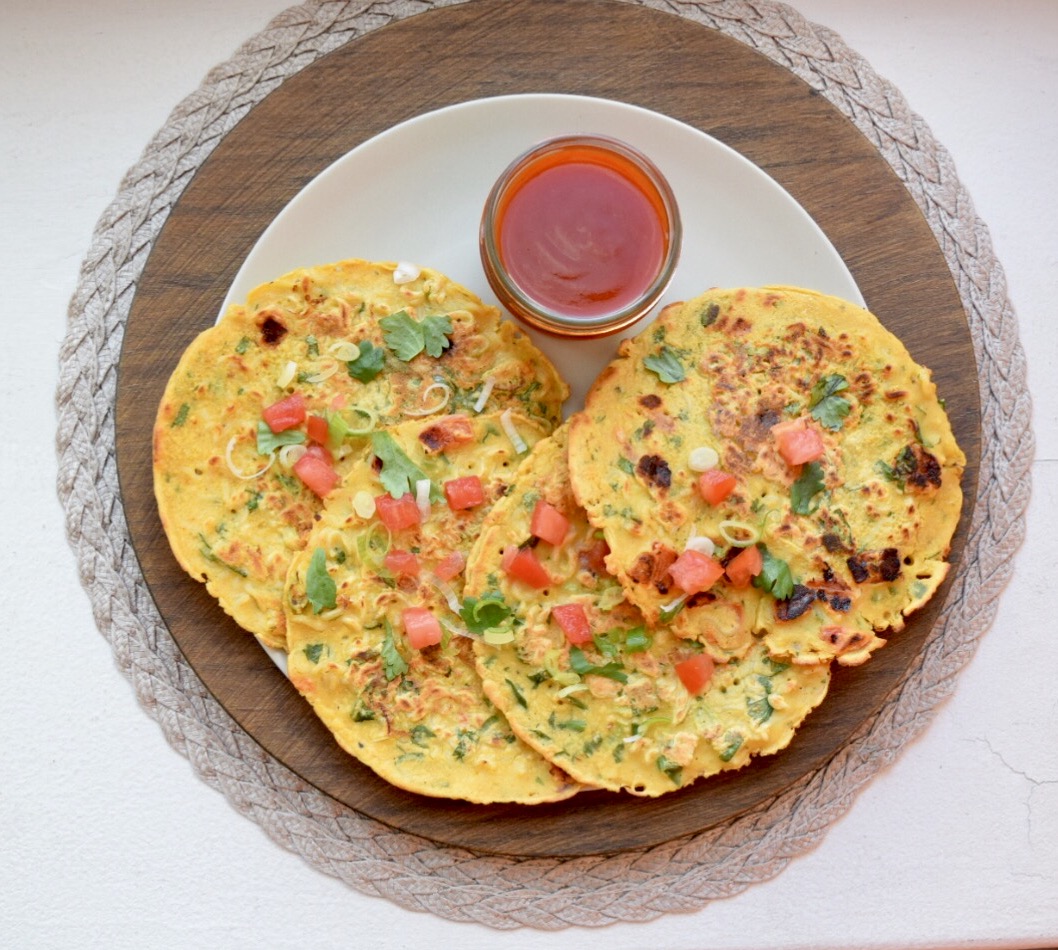 Makes 6 pancakes (serves about 2 people)